Omega Stud formningsmaskin är speciellt för små U balk, C balk och så vidare. Den färdiga produkten från Light Steel Stud Forming Machine används ofta i byggandet av olika industrianläggningar, byar, lager, stormarknader, hotell, utställning, familjebyggnad, köpcentra, luckor och etc. Omega Profile Cold Roll Forming Machinery har fördelen av vackert, klassiskt utseende och nådsmak. Material för denna Omega Roll Forming Machine är galvaniserad stålplåt, snöflingaplåt och färgad stålplåt. Och två olika modelldesign kan göras i en maskin. Den typen av design skulle spara kostnaden för maskinen och lagerutrymmet. Det har fördelen av lätt vikt, snyggt utseende.
1. Profilritning och produkter för referens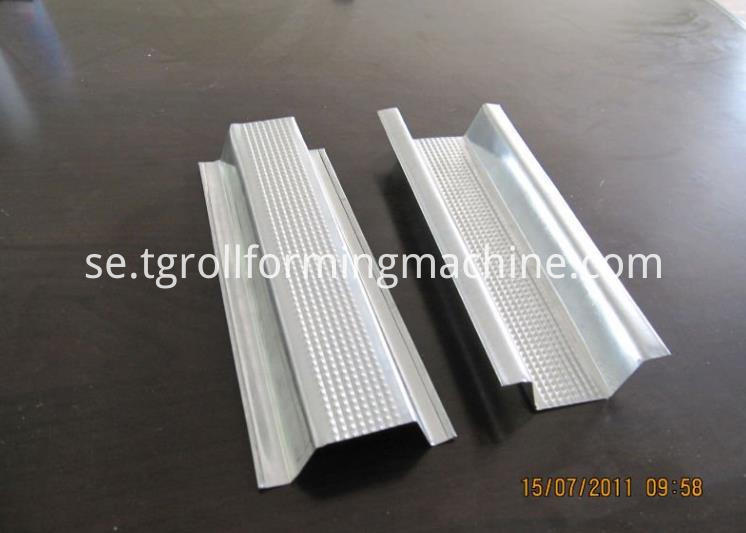 2. Processflöde

3. T- rack- och studrulleformningsmaskin Tekniska parametrar
| | |
| --- | --- |
| Equipment operation | Automatically |
| Voltage | 380V,50/60Hz or at buyer's request |
| Thickness of material sheet | 0.3----1.5mm(normally) |
| Width of material sheet | As drawing |
| Control system | By PLC |
| Cutting method | Hydraulic cutting |
| Material of roller station | Gcr12 with hard treatment |
| Formed width | As drawing |
| Working speed | 20m/min |
| L ength of finished product | set in computer, machine will cut automatically |
| Transmission type | gears |
4. Utrustning för referens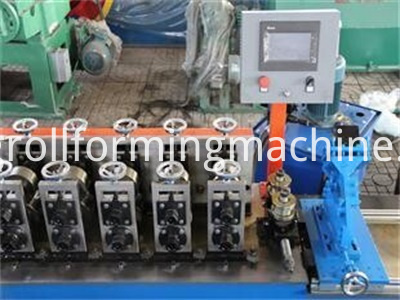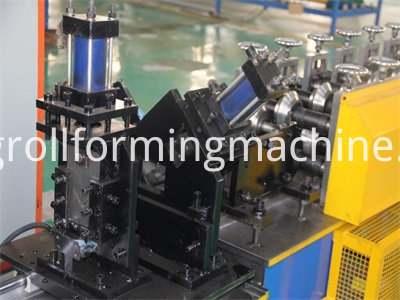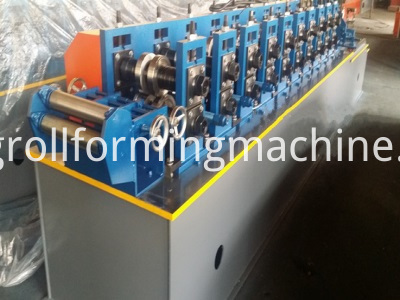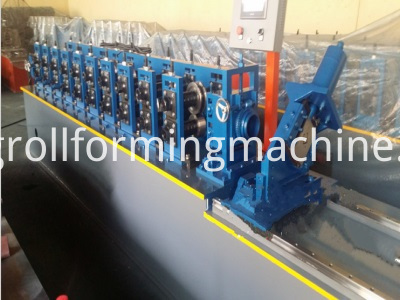 5. Scenapplikation

6. Kund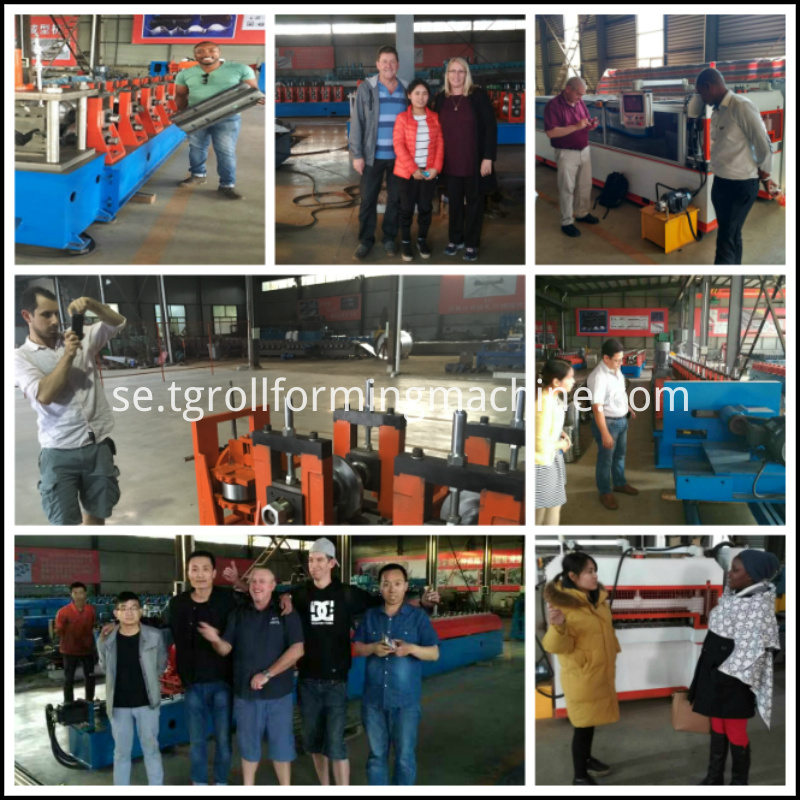 7. Laddar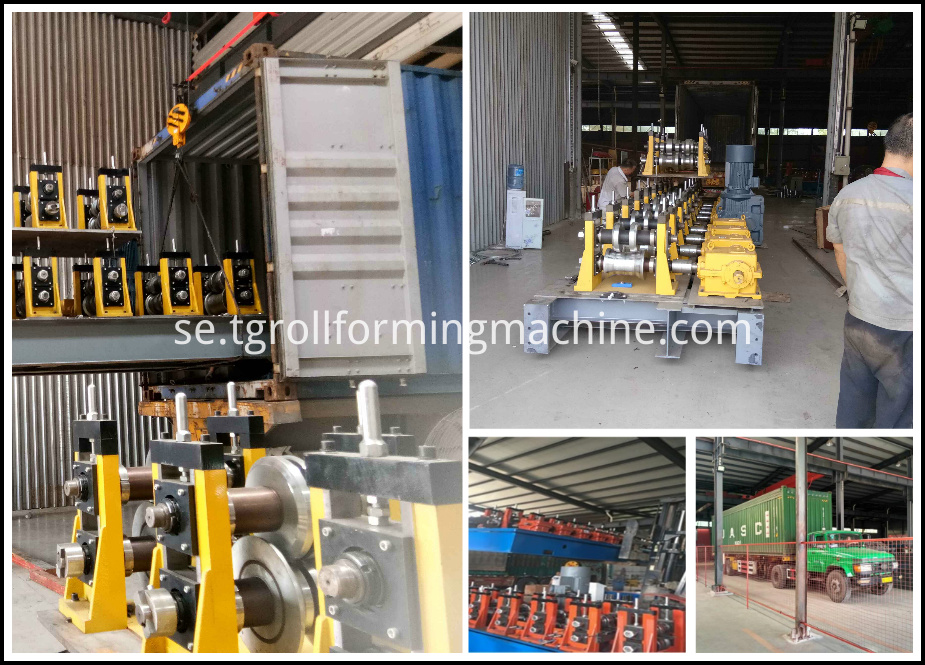 Varför välja Taigong?
* Vi tillhandahåller all teknisk support, som ingenjörer, ritningar och bruksanvisning.
* Vi skickar en eller flera ingenjörer till kunden för att installera och justera alla maskiner
* Supply formel guide service och häftning råmaterial köp.
* Vi kan leverera nyckelfärdiga projekt till dig.
* Vi har gott rykte från våra kunder både hemma och utomlands.
8. Betalningsvillkor och service efter försäljning
1) FOB Tianjin
2) Betalning: 30% T / T insättning, och betala saldot före frakt.
3) Leveranstid: 45-50 arbetsdagar.
4) Garantiperiod: 12 månaders begränsad garanti från och med leveransdatum. Fraktkostnad för delar som ska bytas ut under garantiperioden måste bäras av kunden.
5) Reservdelar: lager, knappar, kedjor, magnetventil, skyddsrör etc.
6) Installation och utbildning:
1. Om köpare besöker vår fabrik och kontrollerar maskinen, lär vi dig hur du installerar och oss maskinen, och tränar även dina anställda / tekniker ansikte mot ansikte.
2. Utan att besöka, skickar vi dig bruksanvisning eller video för att lära dig att installera och använda Stud Roll Forming Machine
Köparen ska betala installationsavgifterna (100 USD en man en dag). Till säljarens utnämnda konto av T / T innan säljarens tekniker går till köparens fabrik. Köparen betalar säljarens tekniker resekostnader utanför Kina, inklusive flygbiljettavgift, boende och mat, tillhandahålla transport från bostad till arbetsplats, nödvändig kommunikation och försäkring etc.
Våra huvudsakliga produkter omfattar Stud Spår Roll Forming Machines , Stål Frame Forming Machines , Purlin Roll Forming Machines , svetsade rörtillverkning maskiner , Highway Guardrail Roll Forming Machines , Metal Expanded Mesh Production Lines och så vidare. Jag
har ytterligare frågor om vår Cold Roll Forming Machine
, var
god kontakta mig.
Produktkategorier : Spår- och studrulleformningsmaskin > Omega Stud Forming Machine