Vi är en omfattande högteknologiska företag integrera utrustning tillverkning, mögel bearbetning och teknikutveckling. Företaget är engagerat i forskning, design och utveckling av högkvalitativt kallformat stål och olika icke-standardiserade profiler. Introduktion av avancerad tysk teknik, avancerat transmissionssystem och övergripande design samt professionell designprogramvara COPRA för att anpassa internationell utrustning.

Rack Shelf Making Machine Automatisk avladdning - styrning - nivellering, matning - kontinuerligt bottenhål - formning - längdskärning - mottagande bord. Lagringssystem Rollformning produktionslinje Produkterna omfattar: Hylla Rack Roll Forming Machine , hyllstråleformning maskin, hyllstöd formning maskin, hylla laminat produktionslinje, hyllning basplattform Roll Forming Machine , hylla hållbar strålformning maskin och andra produkter. Förvaringshylla Rackformningsmaskin Hylla-kolonnbildande utrustning / hylla-strålformningsutrustning antar PLC-styrning .
T he Storage Rack Hylla Panel Making Maskinhylla pelaren är stöd för hela hyllaens vikt, det vill säga all vikt bör tryckas på den här pelaren, så hylla Baseplate Roll Forming Machine krav är också den högsta hyllan, så Materialkraven är strikta. Förvaringshylla Rack Roll Forming Machine består huvudsakligen av passivt laddningsställ, nivelleringsanordning, skäranordning, hydrauliskt tryck, datorstyrsystem och så vidare. Justerbara profilspecifikationer, en kallböjande lagringssystem Roll Forming Production Line , kan producera en mängd olika platetyper.
1. Profilritning och produkter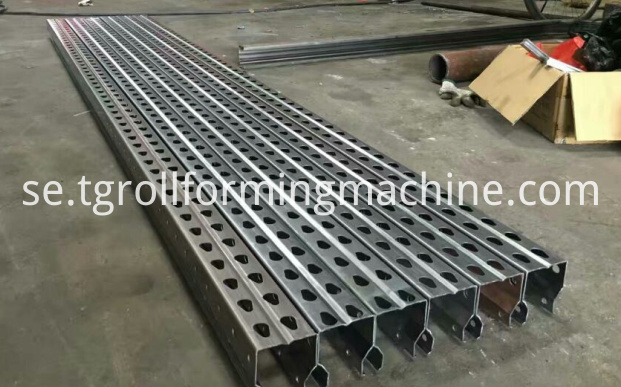 2. Processflödesdiagrammet:
De-coiler --- Nivellering --- Hydraulisk stansning --- Rullformning --- Hydraulisk skärningstabell

3. Teknisk specifikation och detaljer
| | |
| --- | --- |
| Suitable to process | Color steel plate, galvanized sheet,aluminum coils and etc. |
| Roller station | 17 rows forming / 7 roller leveling |
| Thickness of feeding material | 1.5-2.0mm (depend on requirement ) |
| Productivity | 8-15m/min |
| Rollers' material | 45# forging steel |
| Diameter of shaft | 100mm |
| Cutting tool material: | GCr12 with quenched treatment 58-62°C |
| Weight | About 20T |
| Size | 13.5*1.85*1.6m |
| Voltage | 380V 50Hz 3phases |
| Wall thickness of main forming machine | steel plate or memorial archway type |
| Main forming machine body | steel plate weld |
| Total power | 22+11 kw |
| Leveling power | 2.2 kw |
4. Maskinöversikt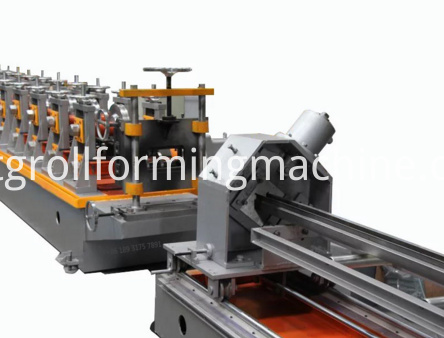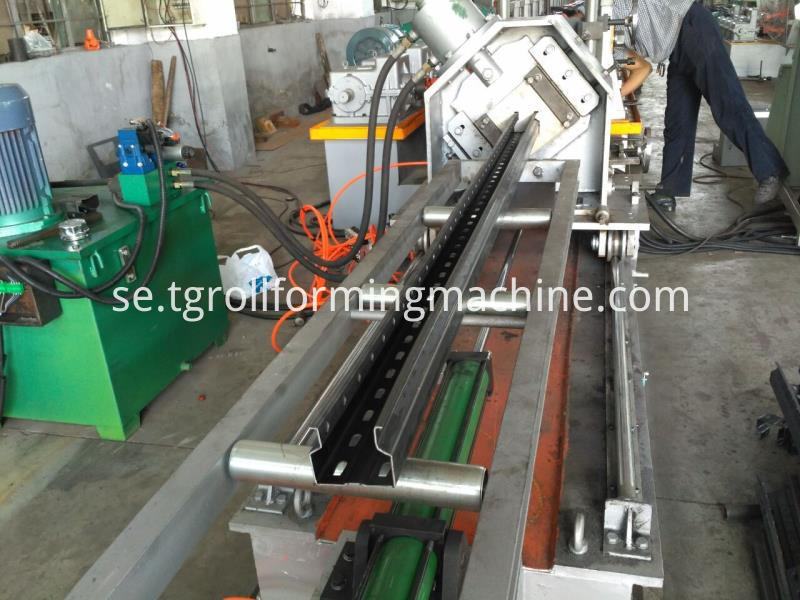 5. Storage Shelf Rack Machine Mer detaljer
(1) Manuell Ue-coiler
Un-power: manuell avspolare; Max. Kapacitet: 5T
Passar till spolens inre diameter: 508mm, lämplig spole Max. ut diameter: 1000mm
Manuell ström expanderar spolens inre yta
(2) Flygsåg Skärning eller hydraulisk skärning
1) Ingen stoppskärning
2) Skärematerialet är Cr12 med släckt behandling
3) Adopterar svetsad ram för bra styvhet.
4) Skärramen har värmebehandlats för att undvika slutproduktdeformation. skärlängdstolerans ± 2 mm
5) Kraften för skärning tillhandahålls av hydraulisk station
6) Slutprodukten kan skäras enligt setlängd i PLC-styrenheten, och längden mäts automatiskt med encoder. När slutprodukten når den inställda längden, slutar maskinen att skära produkten automatiskt. Avsluta denna åtgärd, maskinen kommer att springa igen kontinuerligt.
(3) Stansmaskin
(4) PLC Control System
1) Systemet använder Delta PLC för att styra alla arbetsåtgärder. Produktionskvantitet och varje stycklängd mätas automatiskt. Det är lämpligt att styra lagringssystemet Roll Forming Machine
2) Delta-omvandlaren justerar hastighetstekniken, realiserar automatisk produktion
3) Textskärmen matas in och avbryts arbetsdata
4) Vänligt man-maskingränssystem kan sättas till arbetsstyckena, längden, kvantiteten etc.
5) Enkoderräkning, med funktion av räkning och mätlängd
6) Lämplig spänning: 380V / 50HZ / 3Phase (kan de utformas enligt köparens krav)
(5) Lelveling maskin
6. Scenapplikation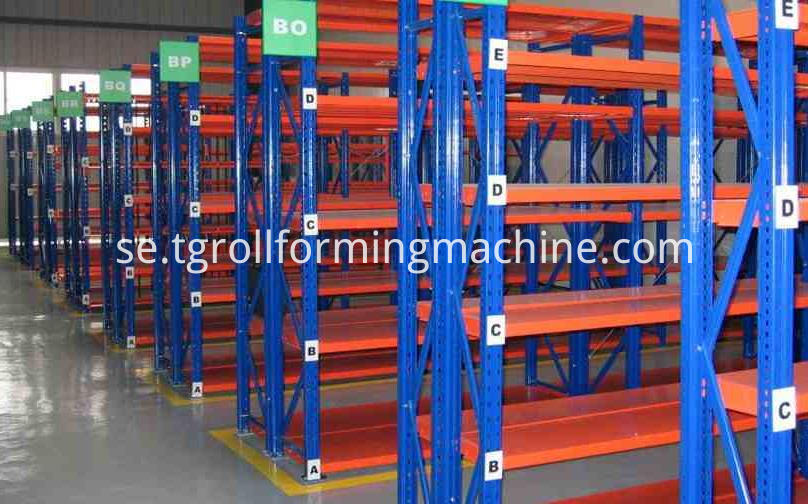 7. Kund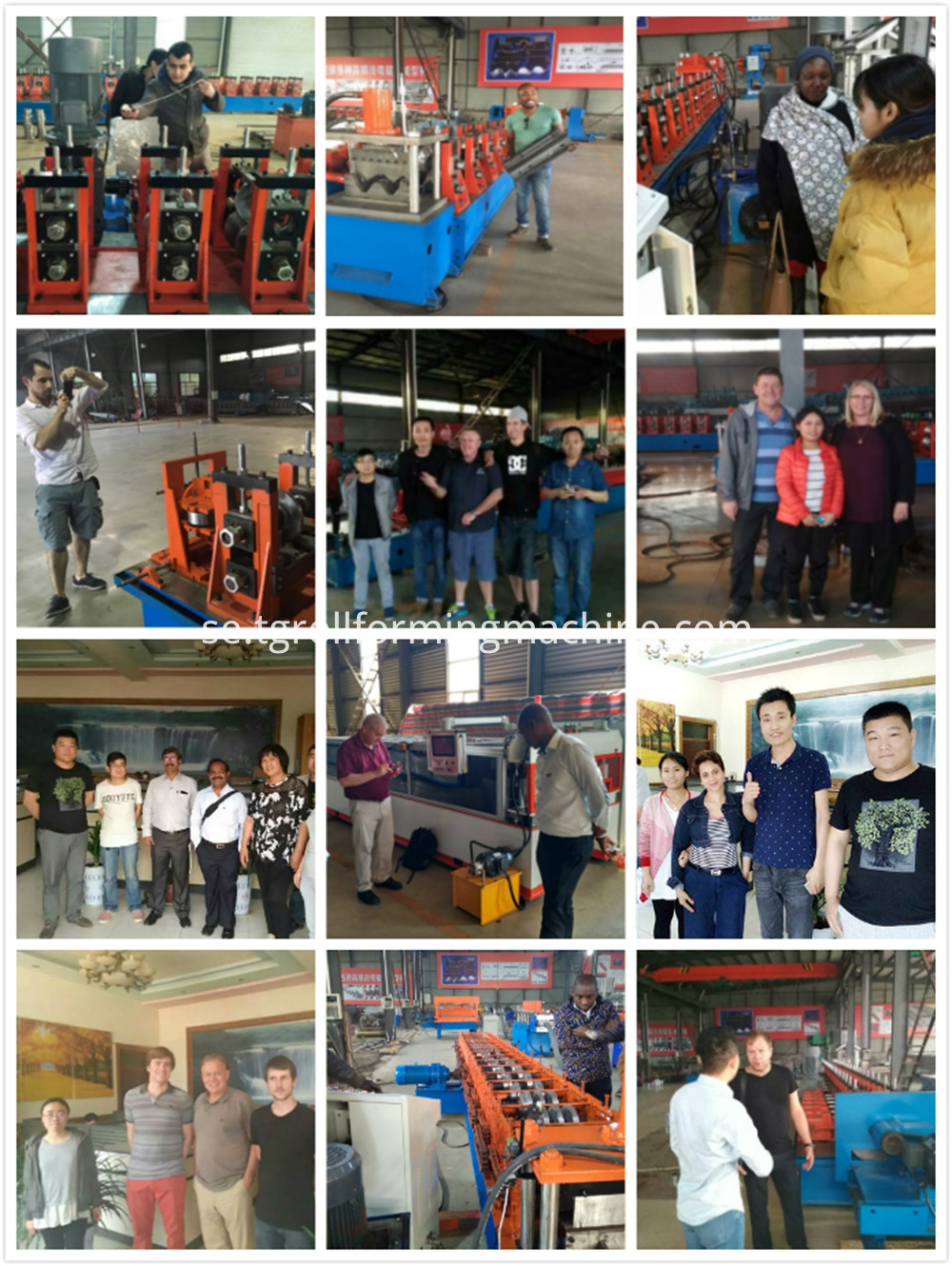 8. Laddar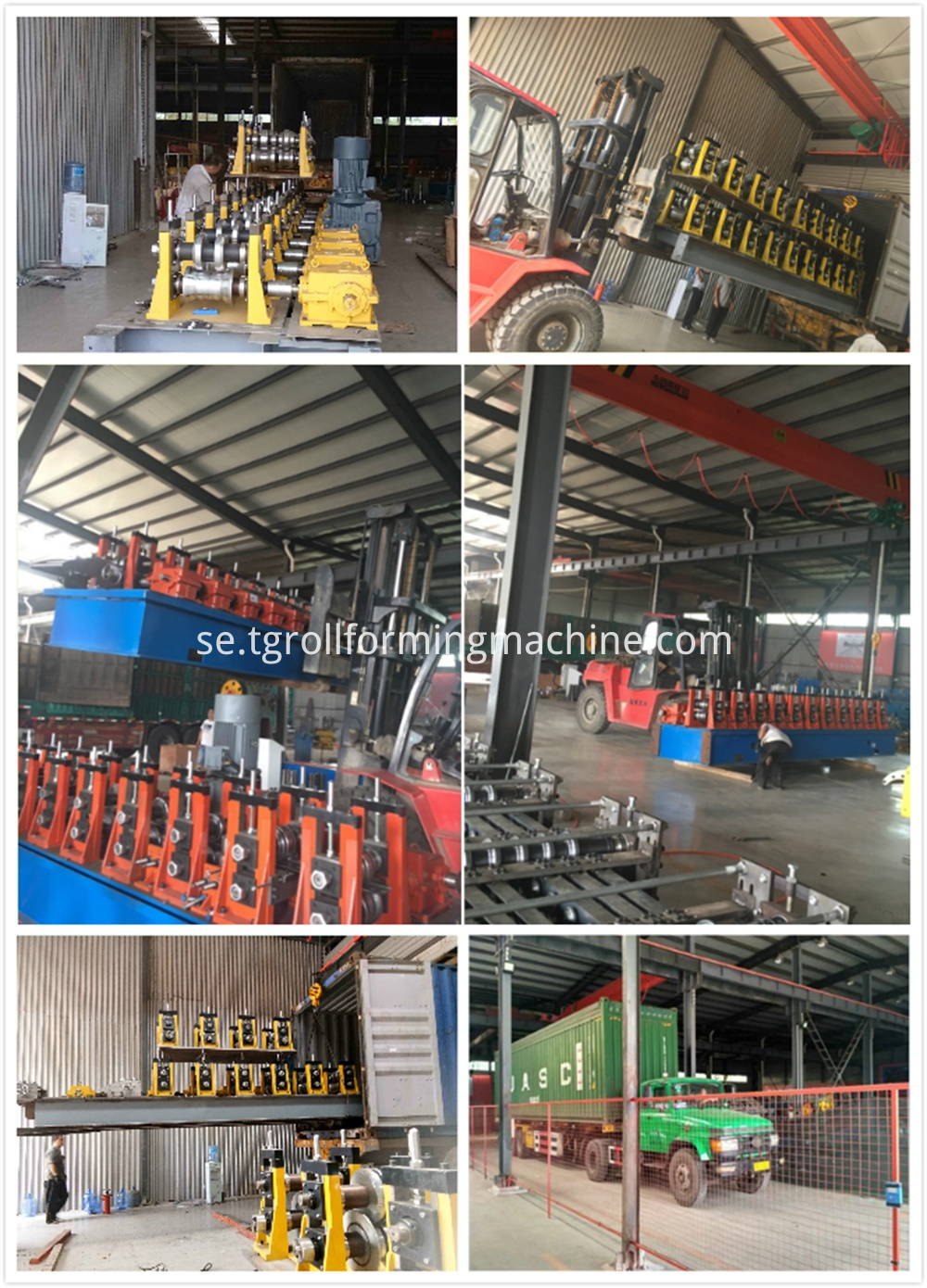 9
.
Betalningsvillkor och service efter försäljning:
1) FOB Tianjin
2) Betalning: 30% T / T insättning, och betala saldot före frakt.
3) Leveranstid: 50 arbetsdagar.
4) Garantiperiod: 12 månaders begränsad garanti från och med leveransdatum. Fraktkostnad för delar som ska bytas ut under garantiperioden måste bäras av kunden.
5) Reservdelar: lager, knappar, kedjor, magnetventil, skyddsrör mm
6) Installation och utbildning:
1. Om köpare besöker vår fabrik och kontrollerar maskinen, lär vi dig hur du installerar och använder
hylla Basplattformsrulleformat
, och tränar också dina arbetare / tekniker ansikte mot ansikte.
2. Utan att besöka, skickar vi dig användarhandbok för att lära dig att installera och driva
lagringshyllaformningsmaskin
3. KOSTNAD FÖR INSTALLATION:
Köparen ska betala installationsavgifterna (USD 80 en man en dag). Till säljarens utnämnda konto av T / T innan säljarens tekniker går till köparens fabrik. Köparen betalar säljarens tekniker resekostnader utanför Kina, inklusive flygbiljettavgift, boende och mat, tillhandahålla transport från bostad till arbetsplats, nödvändig kommunikation och försäkring etc.
Om du har ytterligare frågor om vår utrustning, var god kontakta mig!
Våra huvudsakliga produkter omfattar Stud Spår Roll Forming Machines , Stål Frame Forming Machines , Purlin Roll Forming Machines , svetsade rörtillverkning maskiner , Highway Guardrail Roll Forming Machines , Metal Expanded Mesh Production Lines och så vidare. Jag har ytterligare frågor om vår Cold Roll Forming Machine , var god kontakta mig.
Produktkategorier : Lagringssystem Rollformning produktionslinje > Storage Shelf Rack Roll Forming Machine