Vårt företag strävar efter att uppgradera det tekniska innehållet i Solar Photovoltaic Support Machine och minska produktionskostnaden. Det är på ledande nivå när det gäller teknik, nivå och service. Solar Photovoltaic Bracket Machine producerad av vårt företag har avancerad utrustning för fäste för att effektivt säkerställa produktens prestanda och hållbarhet. Kvalitetsstabiliteten har nått den högsta nivån. Vi kan också designa en 41X21 Channel Machine som uppfyller kundens krav. Solar PV Rack Roll Forming Machine produktionslinjen är helt hydrauliskt driven och har stabil prestanda, hög positioneringsnoggrannhet och hög produktionseffektivitet. S olar Montering Channel Machine hela produktionslinjen integrerar produktionsutrustning för nivellering / stansning, formning och skärning. Rack Frame Roll Forming Machine hela produktionslinjen består av urladdningssystemet, stanssystemet, formningssystemet, skärsystemet och det elektroniska styrsystemet.
Vi kan också producera Utility Tunnel Rack Roll Forming Machine och Solar Tail Box Rack Roll Forming Machine enligt kundernas krav. Denna Rack Frame Roll Forming Machine har två typer: 41 * 21 kanals maskin, 41 * 41 kanals maskin, 41 * 52 kanals maskin, 41 * 62kanals maskin, 41 * 72 kanals maskin, 41 * 82kanals maskin. Denna Solar Photovoltaic Support Machine produktionslinje vanligtvis lämplig för 2mm, 2.5mm, 3mm material. Med mycket effektivt, bra pris, har vår Solar PV Roll Forming Machine exporterats till många länder sedan fabriken inrättades.
1. Profil Rita och produkter för Referen ce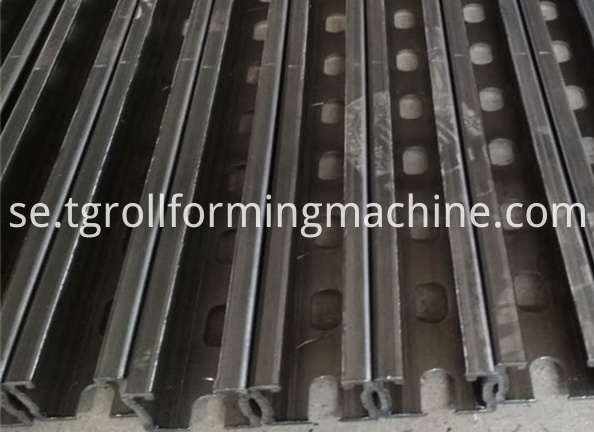 2. Processflödesdiagrammet
Dämpare --- Nivellering --- Hydraulisk stansning --- Rullformning --- Hydraulisk skärningstabell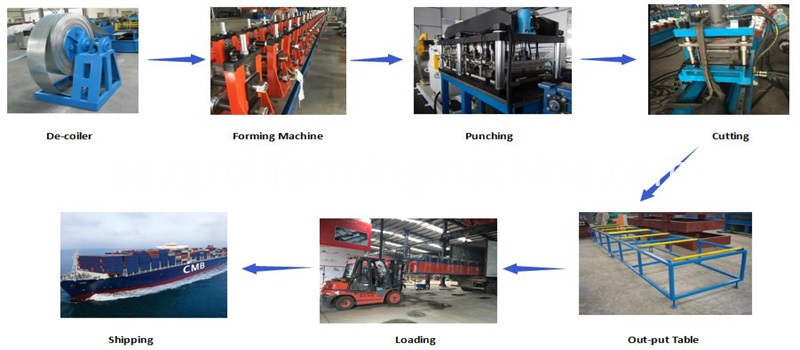 3. Utrustningen inklusive
| | |
| --- | --- |
| Solar PV Rack Machine | 1 set |
| Electrical control system | 1 set |
| Hydraulic system | 1 set |
| Manual de-coiler | 1 set |
| Leveling machine | 1 set |
| Servo feeding machine | 1 set |
| Press machine | 1 set |
| Cutting device | 1 set |
4. Maskindetaljer

Name

Introduction

Automatic Decoiler

Inner diameter:460~510mm

Outer diameter:1200mm

Max.Capacity: 5T

Manual power expands the coil inner surface

Raw material: Galvanized sheet

Material thickness: 2---4 mm

Color: Blue (or base on customer request)

Dimensions:1700mm*1000mm*800mm

Punching Device

Nominal force : 1600KN

Slider travel : 130mm

Number of slider strokes: 40times/min

Motor : 15Kw

Rotating speed: 970 turn/min

Dimensions : 2045*1655*2870mm

Forming Machine

Cassette structure

Forming stations: 14 Rows,

Roller material: Gcr15 air-hardening hardness of HCR58-62

Shaft material: 45# steel precision machined conditioning treatmennt,

Shaft diameter: ¢75

Main Engine power: 22 KW with cycloidal reducer

Voltage :380 v 3 phase

Capacity: 8-15m/min

Transmission type: Chain driving or Gear Driving

Dimension: 12000*1500*1400mm,

Cutting Device

Cutting: hydraulic cutting; quenching HRC58-62

Cutting style: automatic style

Cutting die material: Cr12 Mov.

PLC control system

Brand optional: Panasonic, Mitsubishi,Siemens,Delta

Frequency Control system with touch screen,

Dimension: 700*700*1000mm,

User interface, button labels and literacy should be in English or as per required,

Control the start and the stop of whole machine,

Pump station

From Shanghai Tuojiang

It supplies the power for the hydraulic cutter.

All hydraulic accessories are all use Chinese famous brand products.

Hydraulic motor power: 4.5KW

Output table

Weldedpipes, passive
5 . Maskinöversikt: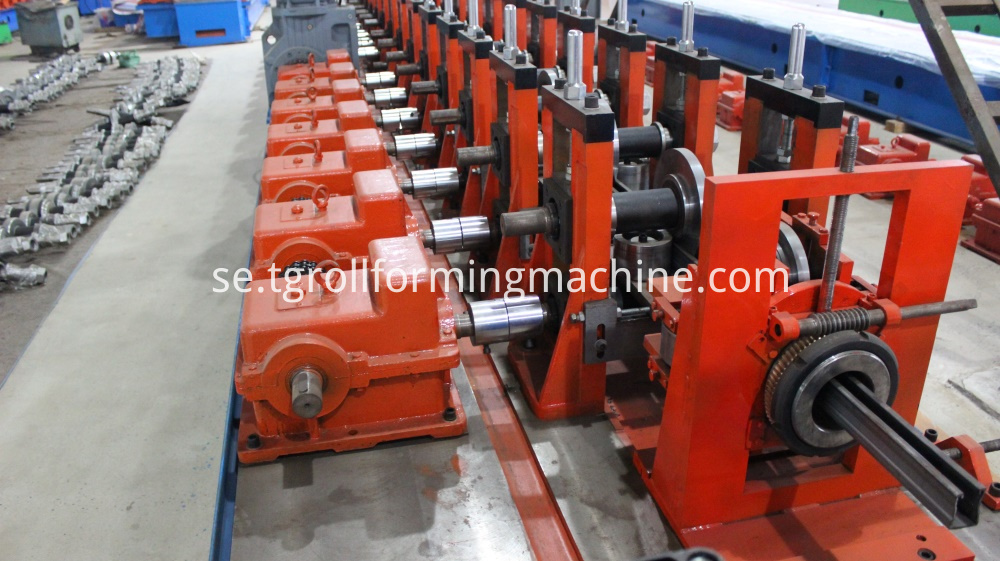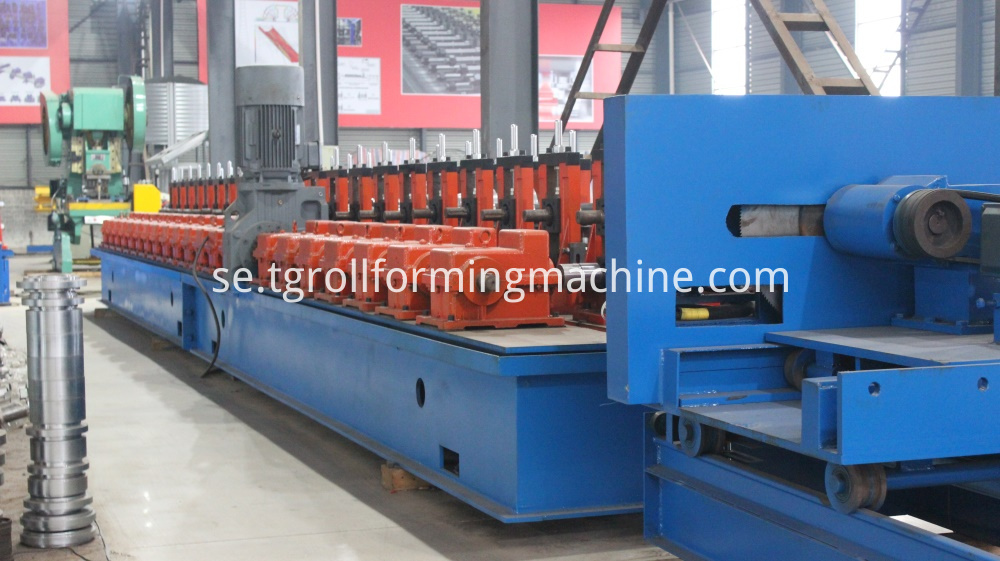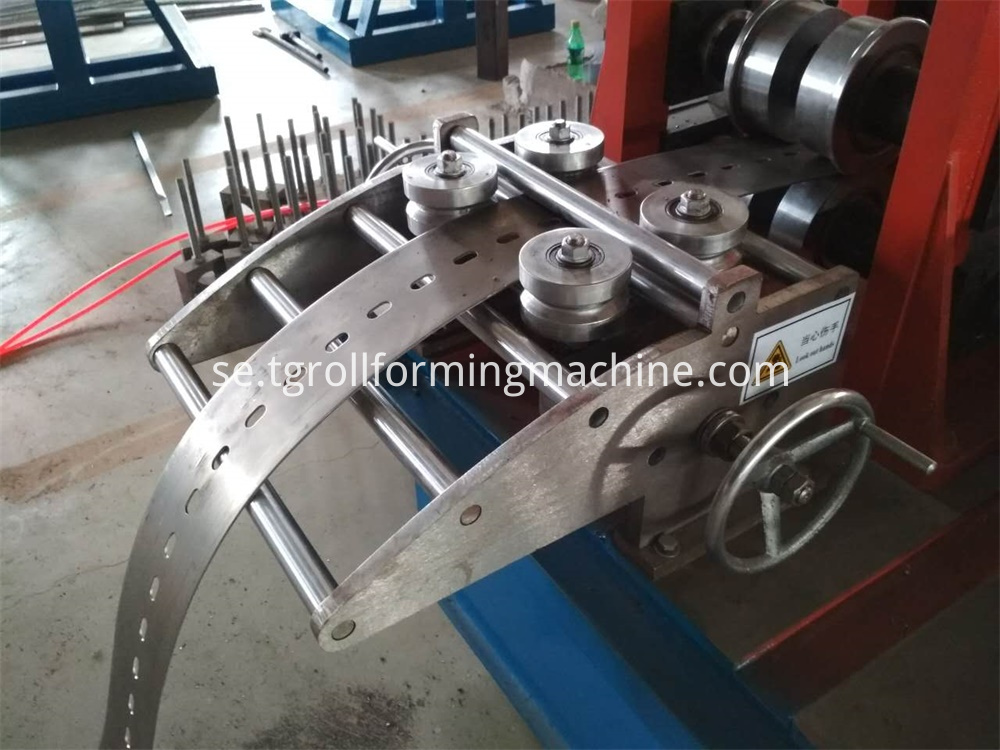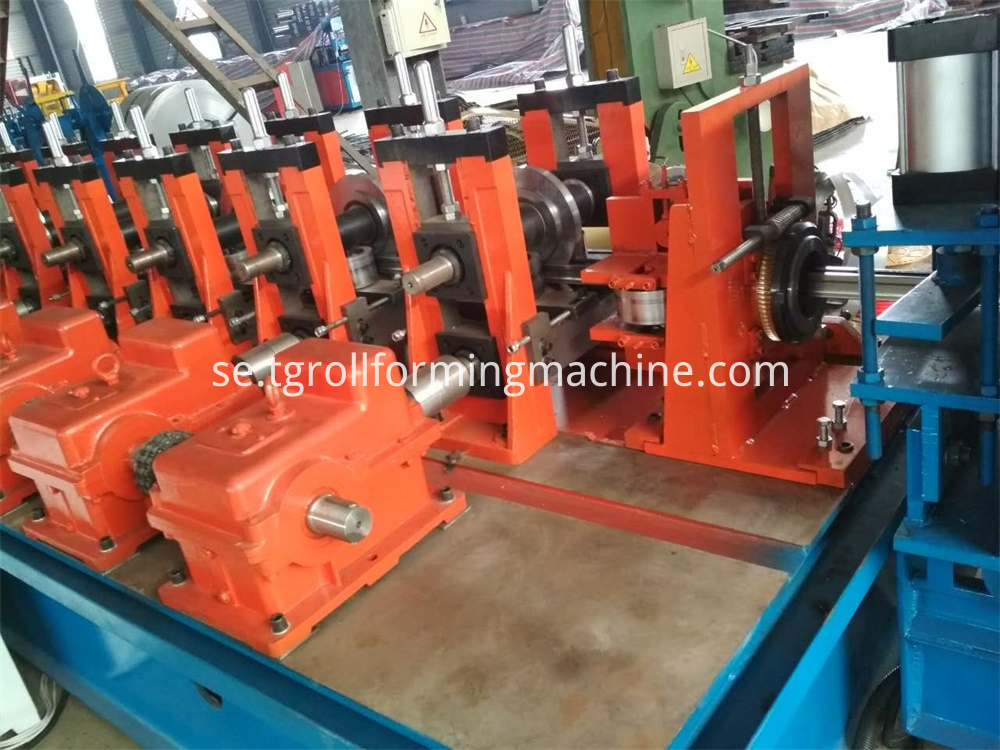 6. Scenapplikation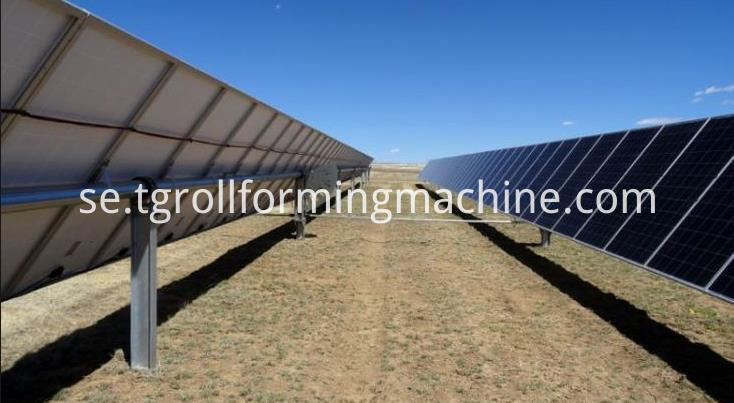 7. Kund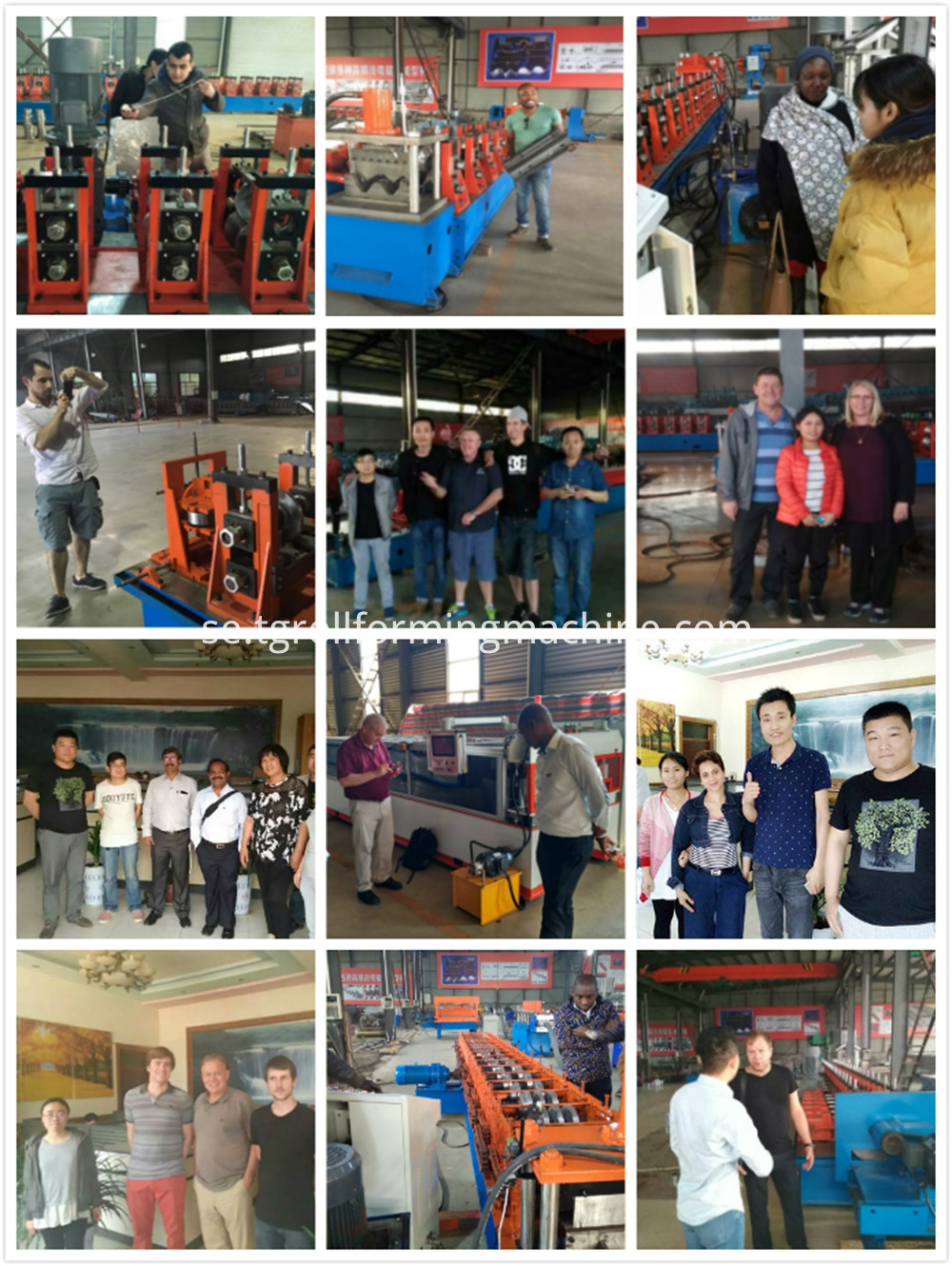 8. Laddar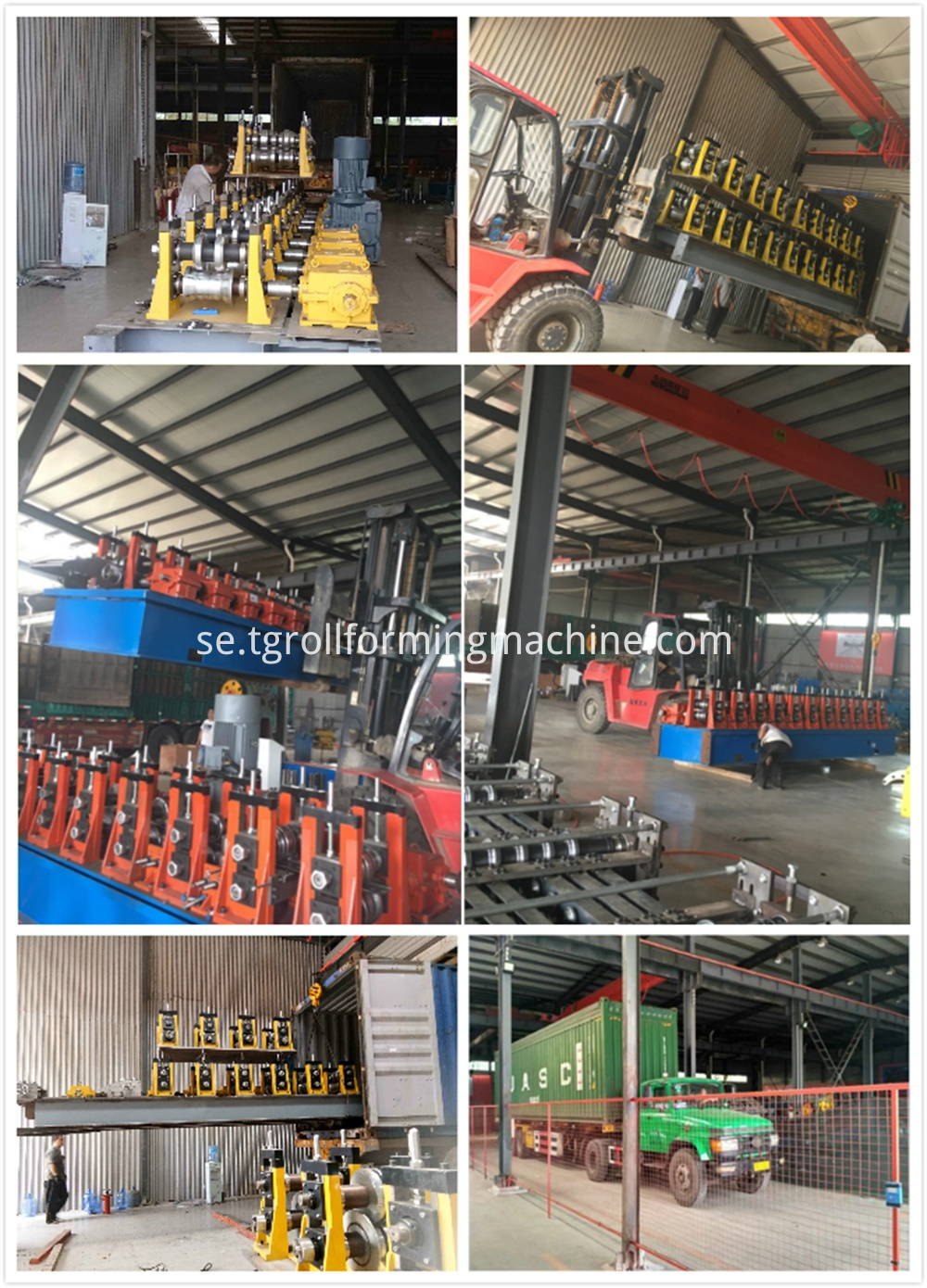 9. Våra tjänster
1. Garanti: Ett år, och vi kommer att ge tekniskt stöd för hela livsformen hos Forming Machine
2. Leveranstid: Inom 30 dagar efter deposition kvitto din betalning
3. Garantiperiod: 1 års kostnadsfri service / betaltjänst hela maskinens livslängd
4. Installation och utbildning Om köpare besöker vår fabrik och kolla Solar Mounting Channel Machine
Vi kommer att lära dig hur man installerar och använder Galvanized Steel Purlin Making Machine och tränar också dina arbetare / tekniker ansikte mot ansikte
Utan att besöka, skickar vi dig användarhandbok och video för att lära dig att installera och använda
Om köparen behöver vår tekniker att gå till din lokala fabrik, vänligen ordna ombord och logi och andra nödvändiga saker
10. Betalningsvillkor och service efter försäljning:
1) FOB Tianjin
2) Betalning: 30% T / T insättning, och betala saldot före frakt.
3) Leveranstid: 50 arbetsdagar.
4) Garantiperiod: 12 månaders begränsad garanti från och med leveransdatum. Fraktkostnad för delar som ska bytas ut under garantiperioden måste bäras av kunden.
5) Reservdelar: lager, knappar, kedjor, magnetventil, skyddsrör mm
6) Installation och utbildning:
1. Om köpare besöker vår fabrik och kontrollerar Roll Forming Machine , lär vi dig hur du installerar och oss maskinen, och tränar också dina arbetare / tekniker ansikte mot ansikte.
2. Utan att besöka, skickar vi dig användarhandbok för att lära dig att installera och använda.
3. KOSTNAD FÖR INSTALLATION:
Köparen ska betala installationsavgifterna (USD 80 en man en dag). Till säljarens utnämnda konto av T / T innan säljarens tekniker går till köparens fabrik. Köparen betalar säljarens tekniker resekostnader utanför Kina, inklusive flygbiljettavgift, boende och mat, tillhandahålla transport från bostad till arbetsplats, nödvändig kommunikation och försäkring etc.
Våra huvudsakliga produkter omfattar Stud Spår Roll Forming Machines , Stål Frame Forming Machines , Purlin Roll Forming Machines , svetsade rörtillverkning maskiner , Highway Guardrail Roll Forming Machines , Metal Expanded Mesh Production Lines och så vidare. Om du har ytterligare frågor om vår Cold Roll Forming Machine , var god kontakta mig.
Produktkategorier : Rack Roll Forming Machine > Solar PV Rack Roll Forming Machine