Denna typ av Downspout Roll Forming Machine består huvudsakligen av decoiler, Roll forming system, skärutrustning, hydrauliskt system, PLC kontrollsystem, Run out bord. Och den böjda rörformningsmaskinen är komplementär. Rain Downpipe Making Machine Equity för denna typ av Round Downspout Machine , som kan göra kurvan för nedröret för att uppfylla kravet på praktiska konstruktionsprojekt. Produkten av Steel Downspout Pipe Forming Machine är mer hållbar än tranditional ppc-röret, och inte lätt att åldras. Downpipe Roll Forming Machine kommer att göra projektet mer integrerat och bidra till att förbättra bilden av allt projekt. Downspout Pipe Making Machine som används för att böja det rörformade röret för att ansluta avloppsröret och det elböjda röret.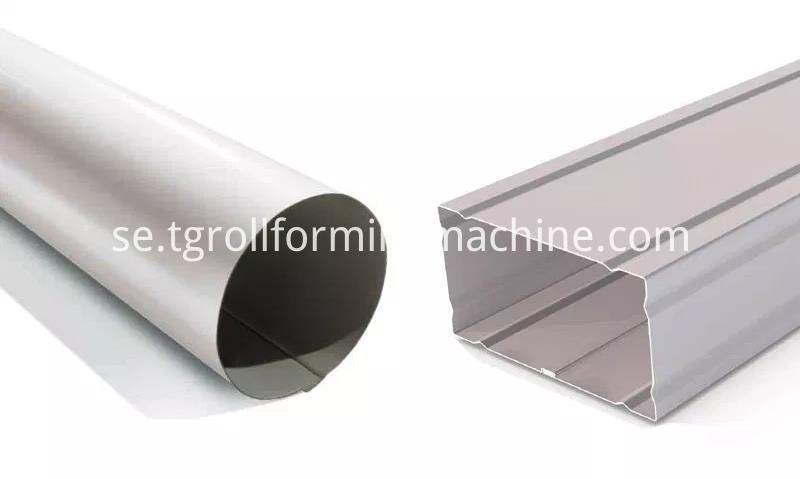 2. Processflödesdiagrammet
Manuell de-haspel --- Electric Feeding --- Servomotor utfodring ---- rullformningsmaskin ------ Computer elskåpet --- Mechanism Automatisk skärning --- avrinning ut Tabeller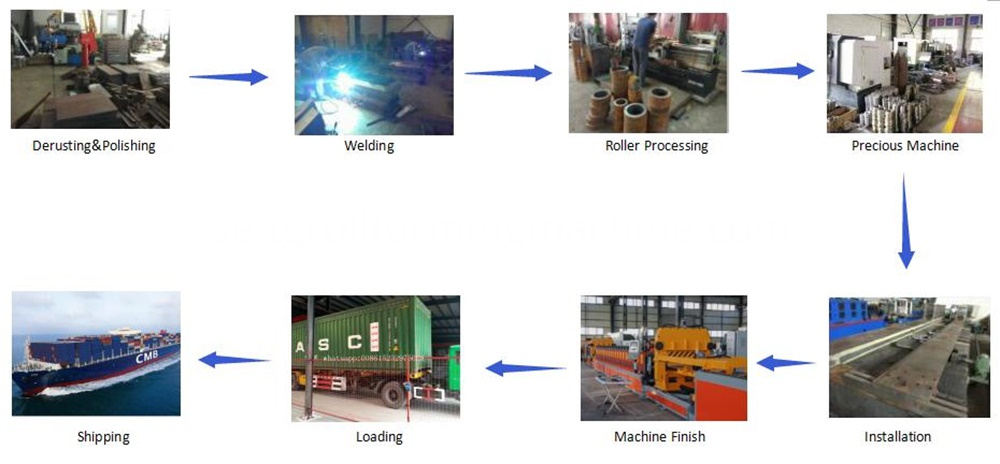 3. Utrustningen inklusive
| | |
| --- | --- |
| Roll forming machine | 1 set |
| Hydraulic cutter | 1 set |
| Electrical control system | 1 set |
| Hydraulic system | 1 set |
| Normal run out table | 1 PC 1m*1m |
| Manual de-coiler | 1 set Max. loading 5 T |
4. Teknisk specifikation och detaljer
(1) Hydraulisk Ue-spole
Un-power: manuell avspolare; Max. Kapacitet: 7T
Passar till spolens inre diameter: 508mm, lämplig spole Max. ut diameter: 1000mm
Manuell ström expanderar spolens inre yta.
(2) Stålrörsrörformningsmaskin
No.

Main parameter of Steel Tube Roll Forming Machine

1

Suitable to process

Color steel plate

2

Width of the plate

330mm

3

Rollers

15rows

4

Dimensions

7400*1150*1510mm

5

Power

5.5+4kw

6

Rolling material

high grade 45# steel(plated chrome on surface)

6

Thickness of the plate

0.3-0.6mm

7

Productivity

8-10m/min

8

Diameter of the roller

Φ66mm

9

Voltage

380V 50Hz 3phases

10

Material of the cutting plate

Cr12

11

Hydraulic

40#

12

Processing precision

Within 1.00mm

13

Control system

PLC control



(3) Hydraulisk skärning
1) Adopterar efter skärning, Stopp för att klippa;
2) Skärematerialet är Cr12 med släckt behandling.
3) Adopterar svetsad ram för god styvhet.
4) Skärramen har värmebehandlats för att undvika slutproduktdeformation. skärlängdstolerans ± 2 mm.
5) Kraften för skärning tillhandahålls av hydraulisk station.
6) Slutprodukten kan skäras enligt setlängd i PLC-styrenheten, och längden mäts automatiskt med encoder. När slutprodukten når den inställda längden, slutar maskinen att skära produkten automatiskt. Avsluta denna åtgärd, maskinen kommer att springa igen kontinuerligt.
(4) Hydraulisk station
1) Den levererar kraften till den hydrauliska skäraren.
2) Alla hydrauliska tillbehör använder alla kinesiska kända märkesvaror.
3) Hydraulisk motoreffekt: 3KW
(5) PLC Control System
1) Systemet använder Delta PLC för att styra alla arbetsåtgärder. Produktionskvantitet och varje stycklängd mätas automatiskt. Det är bekvämt att styra Downpipe Roll Forming Machine.
2) Delta-omvandlaren justerar hastighetstekniken, realiserar automatisk produktion.
3) Textskärmen matas in och avbryts arbetsdata.
4) Vänligt man-maskingränssystem kan sättas till arbetsstyckena, längden, kvantiteten etc.
5) Enkoderräkning, med funktion av räkning och mätlängd.
6) Lämplig spänning: 380V / 50HZ / 3Phase (kan de utformas enligt köparens krav)
(6) Produktrack (ej driven)
1) De brukar lägga slutprodukten när produkten kommer ut från skäranordningen.
2) Två stycken, varje stycklängd är 1m, total längd är 3 meter.
3) Samla slutprodukten och slutprodukterna är lämpliga att staplas av arbetare.

5. Utrustning för referens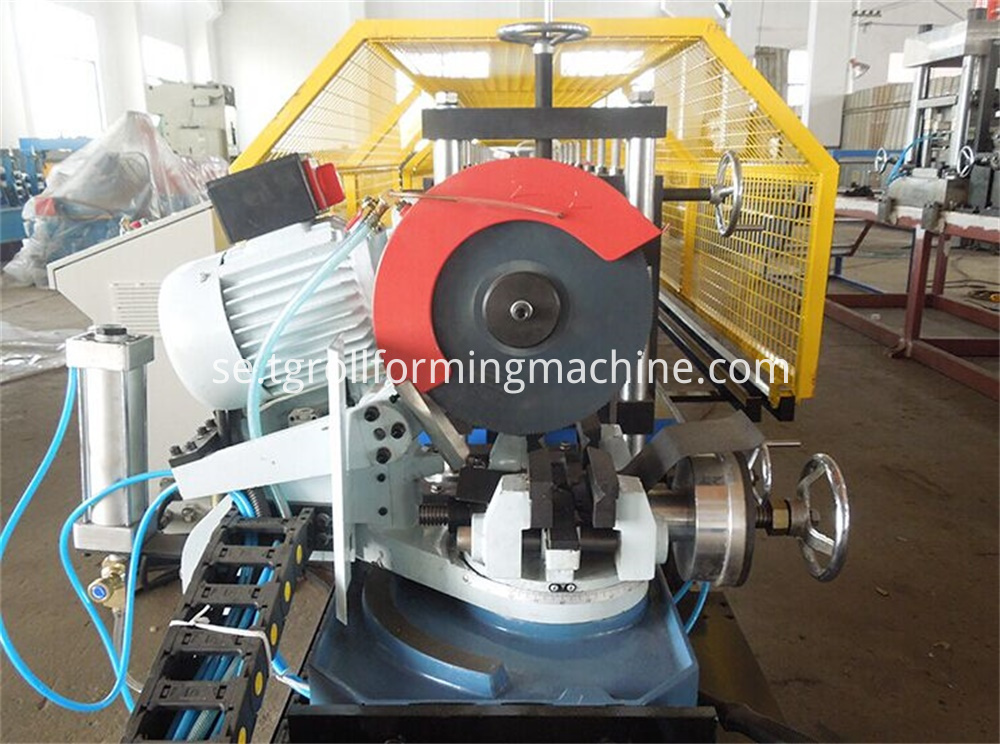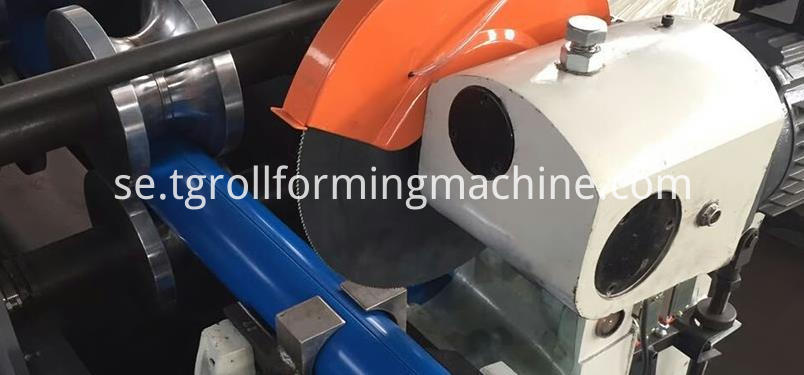 6. Scenapplikation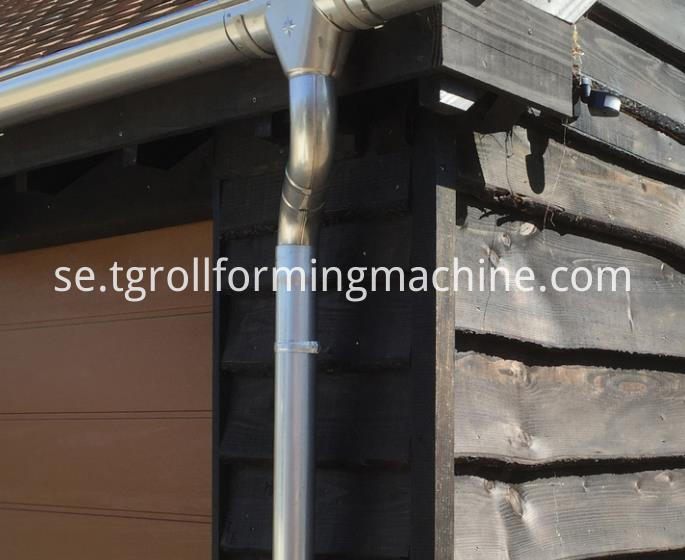 7. Anpassad er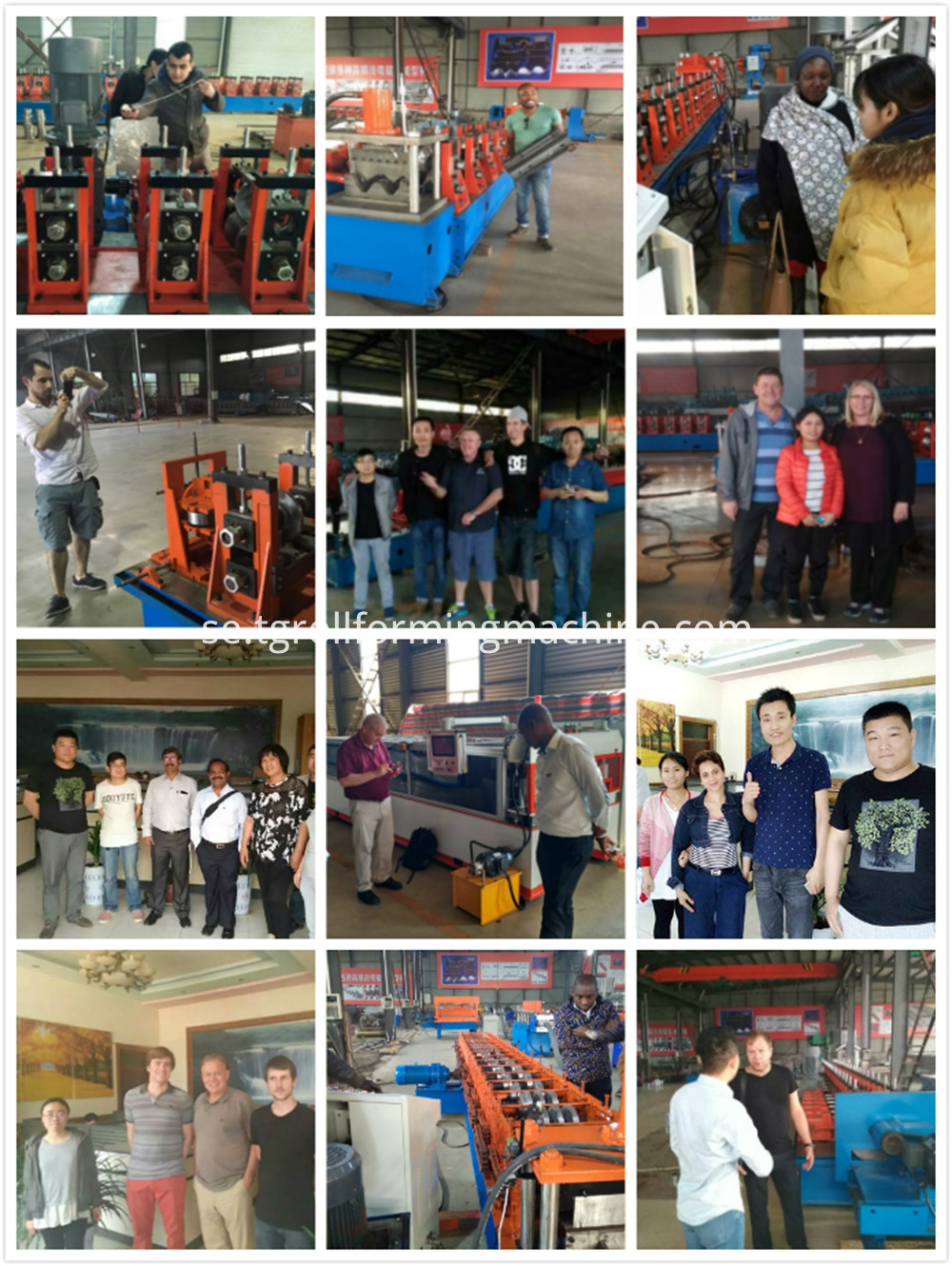 8. Laddar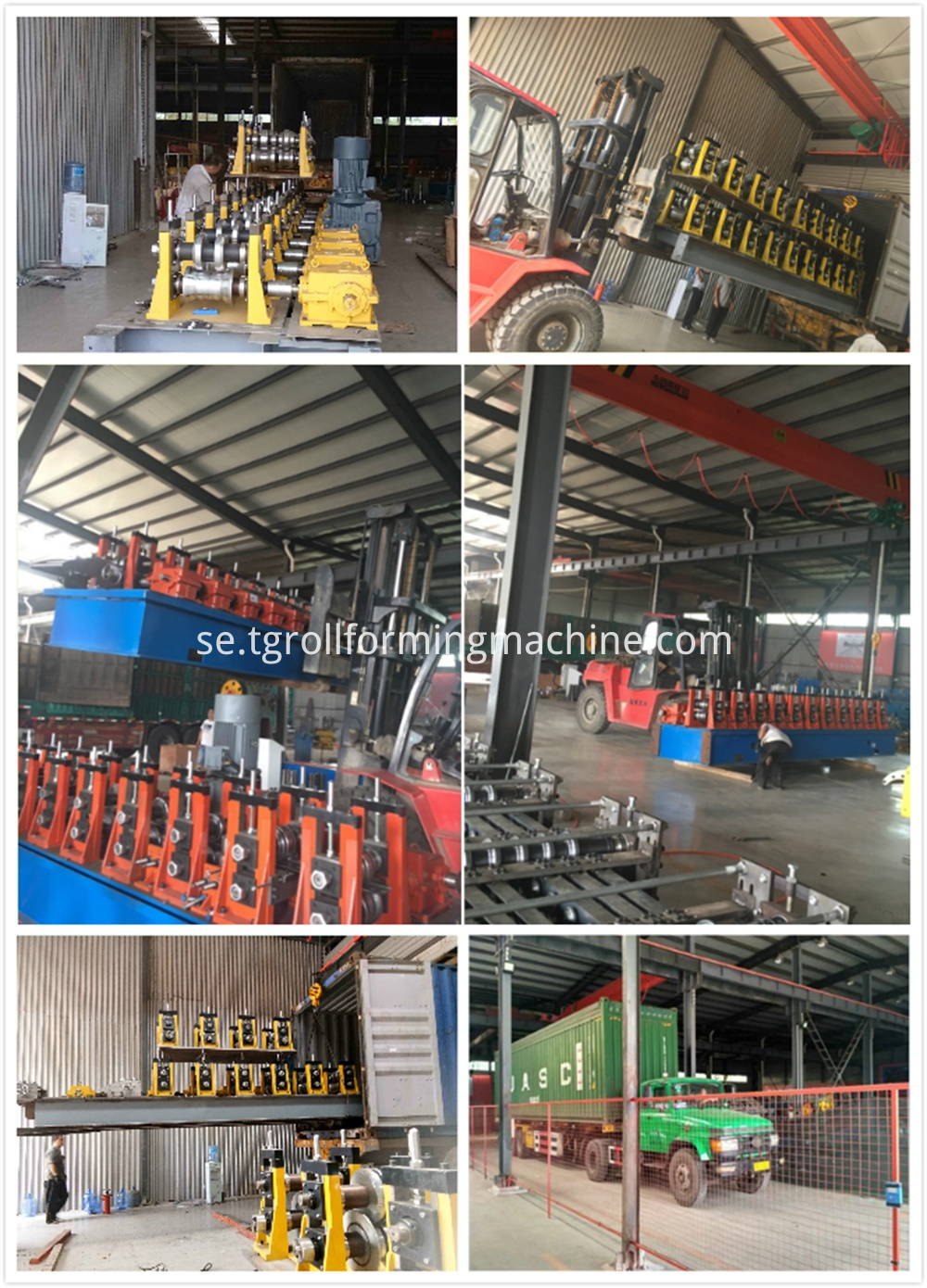 9
. Betalning för

ms och service efter försäljning
1) FOB Tianjin
2) Betalning: 30% T / T insättning, och betala saldot innan du skickar Downpipe Machine
3) Leveranstid: 45-50 arbetsdagar.
4) Garantiperiod: 12 månaders begränsad garanti från och med leveransdatum. Leverans Regnsrörformning Maskinens kostnad för delar som ska bytas ut under garantiperioden måste bäras av kunden.
5) Reservdelar: lager, knappar, kedjor, magnetventil, skyddsrör etc.
6) Installation och utbildning:
1. Om köpare besöker vår fabrik och kontrollerar maskinen, lär vi dig hur du installerar och oss maskinen, och tränar även dina anställda / tekniker ansikte mot ansikte.
2. Utan att besöka, skickar vi dig bruksanvisning eller video för att lära dig att installera och använda Automatisk Gutter Machine
3. KOSTNAD FÖR INSTALLATION :
Köparen ska betala installationsavgifterna (100 USD en man en dag). Till säljarens utnämnda konto av T / T innan säljarens tekniker går till köparens fabrik. Köparen betalar säljarens tekniker resekostnader utanför Kina, inklusive flygbiljettavgift, boende och mat, tillhandahålla transport från bostad till arbetsplats, nödvändig kommunikation och försäkring etc.
Hebei Taigong Roll Forming Machinery Co, Ltd har specialiserat sig på Channel Machine tillverkning i många år. Våra huvudprodukter är olika typer av Highway Guardrail Roll Forming Machine , Silo Machine , Spiral Corrugated Pipe Machine , Grain Bin Silo Machine , Purlin Roll Forming Machine , Metal Culvert Pipe Machine , Rib Lath Machine , etc. Välkommen att göra affärer med oss. Om du har ytterligare frågor om vår Roll Forming Maskiner, inkluderar Steel Downpipe Cold Roll Forming Machine , var god kontakta mig.

Produktkategorier : Avloppsrullformningsmaskin > Round Downpipe Roll Forming Machine