Hydrauliskt driven överlägsen kvalitet auto Gutter rullformningsmaskin stuprör rullformningsmaskin är den specialutrustning för kontinuerlig valsning och kallformning på stålplåt. Det antar spolning av stålplåt som råmaterial, avkokning, kontinuerlig rullande och kallformning, skärs automatiskt till den storlek och specifikation som krävs och matar ut de färdiga panelerna. Halvrunda Gutter Roll Forming Machine antar PLC-styrning, AC-frekvens och justering av hastighetstekniken och det realiserar kontinuerlig automatisk produktion. Metal Gutter Roll Forming Machine är därför en ny typ av energibesparande och högeffektivt producerande utrustning för stål strukturera.
Houses Downpipe Roll Forming Machine är tillverkningen av rostfritt stål sink sink gjututrustning, vattensystemet är att styra regnet och smältande snö rimligt utformad från taket, huvuddelen är installerad (även kallad fall sink) och sump tank.
Gutter Machine Equipment Beskrivning
1. Profilritning och produkter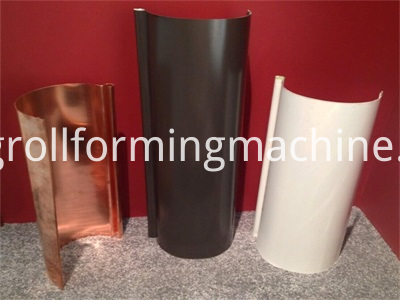 2. Processflödesdiagrammet
Manuell avspolare --- Elektrisk matning --- Servomotormatning ---- Rullformningsmaskin ------ Datorstyrningsskåp --- Automatiskt skärningsmekanism --- Utgångstabeller


3. Maskinutrustningen för avloppssystemets rullar , inklusive
| | |
| --- | --- |
| Roll forming Machine | 1 set |
| Hydraulic cutter | 1 set |
| Electrical control system | 1 set |
| Hydraulic system | 1 set |
| Normal run out table | 3 PC 1m*1m |
| Manual de-coiler | 1 set Max. loading 5 T |
4. Teknisk specifikation och detaljer
(1) Hydraulisk Ue-spole
Un-power: manuell avspolare; Max. Kapacitet: 7T
Passar till spolens inre diameter: 508mm, lämplig spole Max. ut diameter: 1000mm
Manuell ström expanderar spolens inre yta.
(2) Stålrörsrörformningsmaskin
Description

Product Name

Steel Tube Downpipe Forming Machine

Machine Size

6000mm*800mm*1200mm

Machine Weight

About 4 T

Frame Materials

350H section steel

Middle plate thickness

12mm

Forming Shaft

Diameter

70mm

Material

45# quenched and tempered material

Forming roller

45# Forging Hard Chrome Plating

Drive mode

1 inch sprocket, chain

Forming Station

18 stations

Forming Speed

8-12m/min

Pressing Thickness

0.2-0.9mm

Pressing width

≤400mm

Main Engine Power

7.5KW with cycloidal reducer

Pump Station Motor

3KW

Computer

Taiwan [Delta"

Coder

Wuxi "rip" or "Xin Ya"

Switch

" CHINT "or" delixi"
5. Utrustning för referens: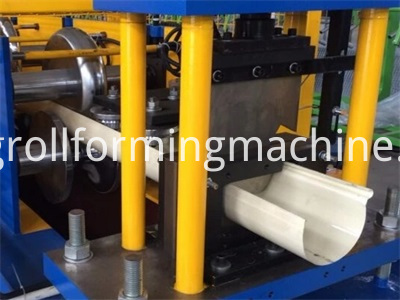 6. Scenapplikation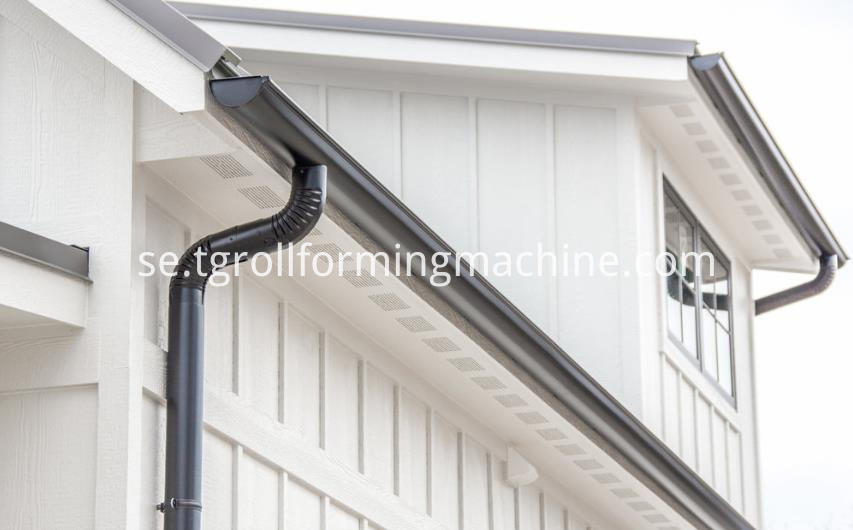 7. Anpassad er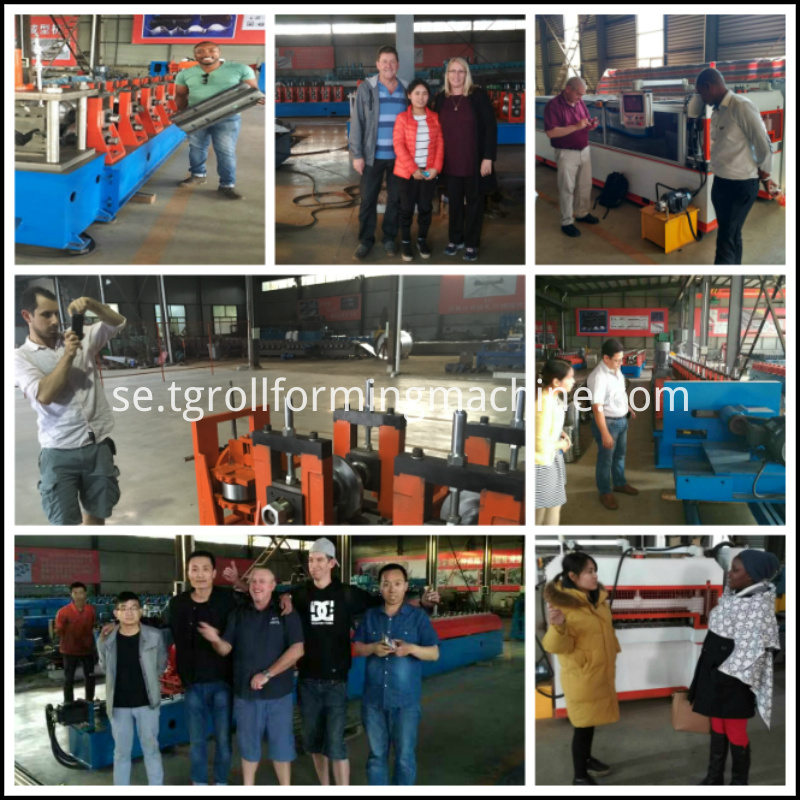 8. Laddar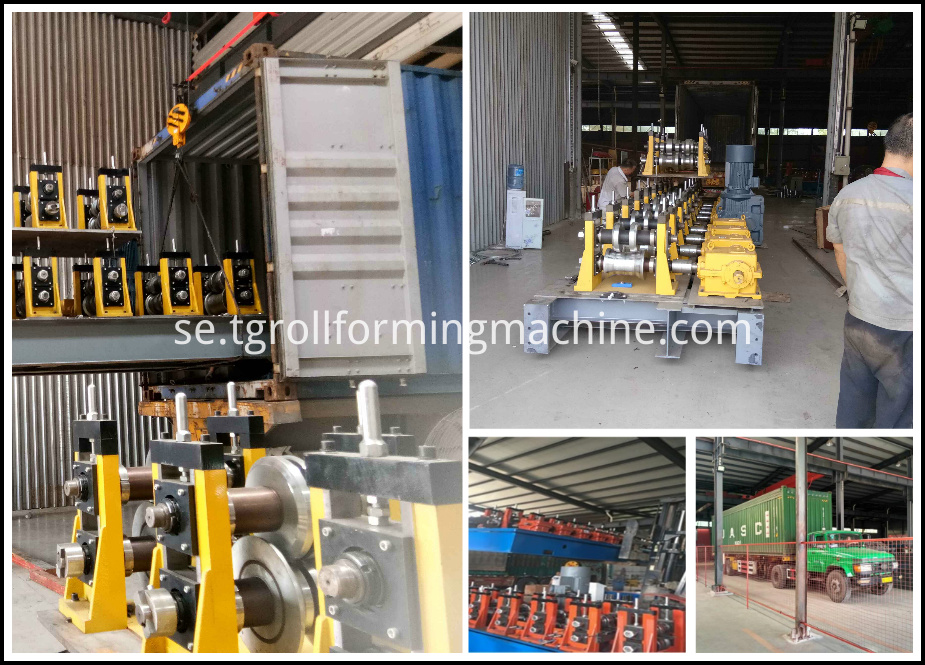 9.
Betalningsvillkor och service efter försäljning
1) FOB Tianjin
2) Betalning: 30% T / T insättning, och betala saldot före frakt.
3) Leveranstid: 45-50 arbetsdagar.
4) Garantiperiod: 12 månaders begränsad garanti från och med leveransdatum. Fraktkostnad för delar som ska bytas ut under garantiperioden måste bäras av kunden.
5) Reservdelar: lager, knappar, kedjor, magnetventil, skyddsrör etc.
6) Installation och utbildning:
1. Om köpare besöker vår fabrik och kontrollerar Steel Tube Roll Forming Machine , lär vi dig hur du installerar och oss maskinen, och tränar även dina anställda / tekniker ansikte mot ansikte.
2. Utan att besöka, skickar vi dig användarhandbok eller video för att lära dig att installera och använda Automatisk Gutter Machine
Köparen ska betala installationsavgifterna (100 USD en man en dag). Till säljarens utnämnda konto av T / T innan säljarens tekniker går till köparens fabrik. Köparen betalar säljarens tekniker resekostnader utanför Kina, inklusive flygbiljettavgift, boende och mat, tillhandahålla transport från bostad till arbetsplats, nödvändig kommunikation och försäkring etc.
Våra huvudsakliga produkter omfattar Stud Spår Roll Forming Machines , Stål Frame Forming Machines , Purlin Roll Forming Machines , svetsade rörtillverkning maskiner , Highway Guardrail Roll Forming Machines , Metal Expanded Mesh Production Lines och så vidare. Jag har ytterligare frågor om vår Cold Roll Forming Machine , var god kontakta mig.
Produktkategorier : Avloppsrullformningsmaskin > Gutter Roll Forming Machine