Vi är den främsta professionella Purlin Roll Forming Machine tillverkaren i Kina, specialiserad på anpassade Purlin Making Forming Machine utrustning. Om du behöver en Automatisk C Purlin Roll Forming Machine , är du välkommen att besöka vår fabrik. Nedan är vår automatiska C Purlin Machine . Om du behöver köpa Steel Purlin Machine kan du maila mig eller skicka ett meddelande via WhatsApp 008615732728858. Vårt företag kommer att ge dig bilder och videoklipp av professionell automatisk stålrullmaskin . Det C-formade stålet bildas automatiskt av Stee C Purlin Roll Forming Machine . Automatic Purlin Machine kan automatiskt slutföra formprocessen för det C-formade stålet enligt den givna C-formade stålstorleken. C Purlin Making Machine används i stor utsträckning i strängar och väggbalkar av stålkonstruktioner, och kan även kombineras i lätta byggnadsbalkar, konsoler och andra byggnadsdelar. Dessutom kan Steel C Channel Making Machine också användas för kolonner, balkar och armar i mekanisk ljustillverkning.

Våra huvudprodukter omfattar Stud Spår Roll Forming Machine , Stål Frame Forming Machine , Purlin Roll Forming Machine , svetsad rörtillverkning maskin , Highway Guardrail Roll Forming Machine , Metal Expanded Mesh Machine och så vidare. Jag har ytterligare frågor om vår Cold Roll Forming Machine , var god kontakta mig

1. Profilritning och produkter för referens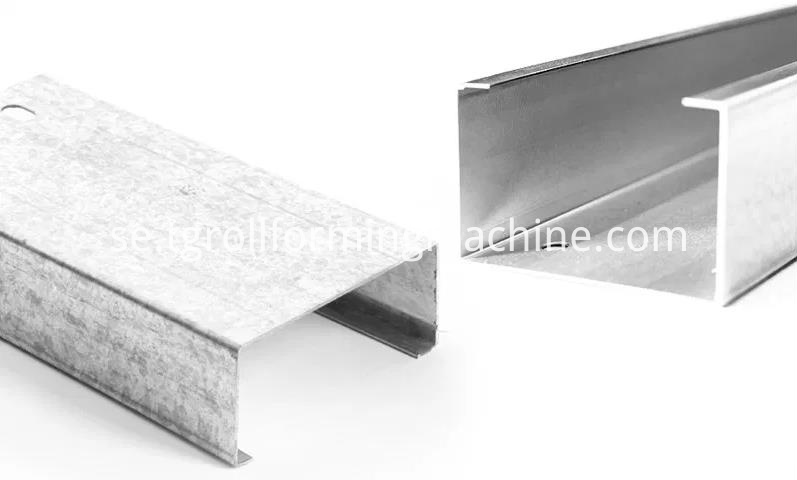 2. Processflödesdiagrammet
De-coiler --- Guiding - Roll forming --- Hydraulisk Cutter-Output Table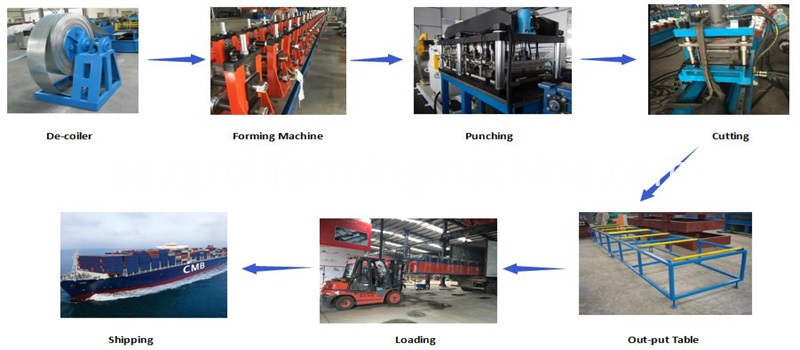 3. Utrustningen inklusive
| | | |
| --- | --- | --- |
| No | Name | Set |
| 1 | De-coiler | 1 |
| 2 | Guiding | 1 |
| 3 | Roll forming machine | 1 |
| 4 | Hydraulic cutting | 1 |
| 5 | PLC control system | 1 |
| 6 | Pump station | 1 |
| 7 | Output table | 1 |
4. Teknisk specifikation och detaljer
(1) Hydraulisk avluftare
Un-power: manuell avspolare; Max. Kapacitet: 7T
Passar till spolens inre diameter: 508mm, lämplig spole Max. ut diameter: 1000mm
Manuell ström expanderar spolens inre yta
(2) C & Z Purlin Forming Maskinrullformningsmaskin
Description

Product Name

C Purlin Roll Forming Machine

Machine Size

8000mm*1600mm*1800mm

Machine Weight

About 8 T

Frame Materials

350H steel

Forming Shaft

Diameter

80mm

Material

45# quenched and tempered material

Forming roller

45# Forging Hard Chrome Plating

Cutting System

Hydraulic Cutting

Main Engine power

22 KW with cycloidal reducer

Forming Rows

16 rows

Forming Speed

8-12m/min

Pressing Thickness

1-3mm

Effective Width

80mm--300mm

Pressing width

1000mm

Electric Control System

SIEMENS/ Schneider

Pump Station Motor

15 KW

Transducer

SIEMENS

Coder

Wuxi rip or Xin Ya

Switch

CHINT or delixi
(3) Hydraulisk skärning
1) Adopterar efter klippning, Stopp för att klippa
2) Skärematerialet är Cr12 med släckt behandling
3) Adopterar svetsad ram för god styvhet
4) Skärramen har värmebehandlats för att undvika slutproduktdeformation. skärlängdstolerans ± 2 mm
5) Kraften för skärning tillhandahålls av hydraulisk station
6) Slutprodukten kan skäras enligt setlängd i PLC-styrenheten, och längden mäts automatiskt med encoder. När slutprodukten når den inställda längden, slutar maskinen att skära produkten automatiskt. Avsluta den här åtgärden, C Type Steel Forming Machine kommer att springa igen kontinuerligt
(4) Hydraulisk station
1) Den levererar kraften till den hydrauliska skäraren
2) Alla hydrauliska tillbehör använder alla kinesiska kända märkesvaror
4) Hydraulisk motoreffekt: 3KW
(5) PLC Control System
1) Systemet använder Delta PLC för att styra alla arbetsåtgärder. Produktionskvantitet och varje stycklängd mätas automatiskt. Det är bekvämt att styra stålkanalformningsmaskinen
2) Delta-omvandlaren justerar hastighetstekniken, realiserar automatisk produktion
3) Textskärmen matas in och avbryts arbetsdata
4) Vänligt man-maskingränssystem kan sättas till arbetsstyckena, längden, kvantiteten etc.
5) Enkoderräkning, med funktion av räkning och mätlängd
6) Lämplig strömspänning: 380V / 50HZ / 3Phase (kan de utformas enligt köparens krav)
(6) Produktrack (ej driven)
1) De brukar lägga slutprodukten när produkten kommer ut från skäranordningen
2) Två stycken, varje stycklängd är 1m, total längd är 3 meter
3) Samla slutprodukten och slutprodukterna är lämpliga att staplas av arbetare
5. Maskinöversikt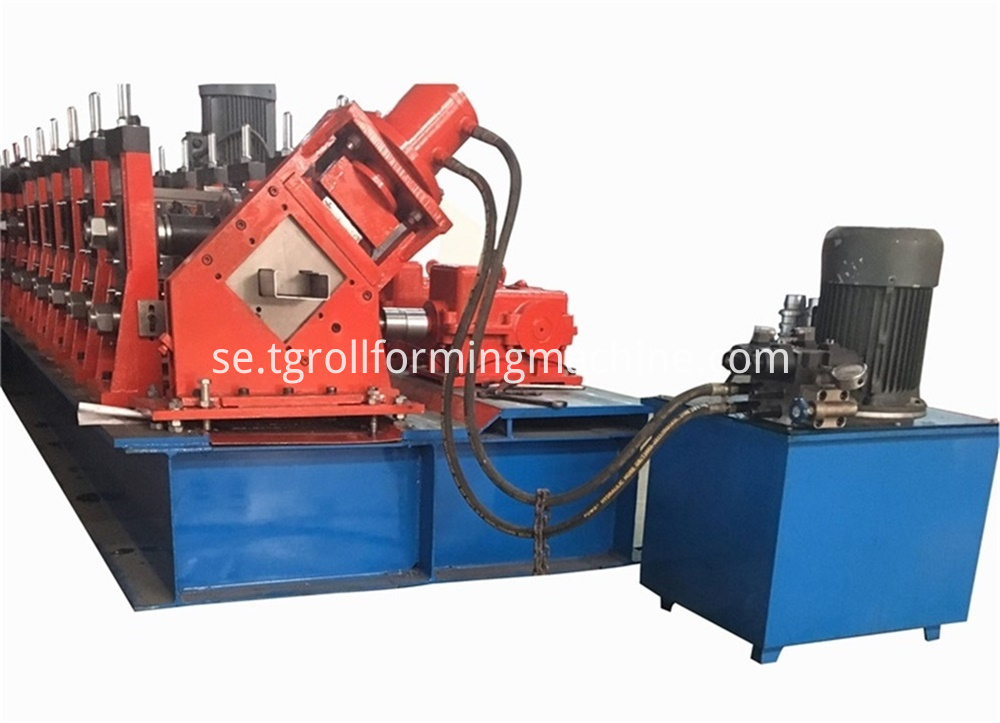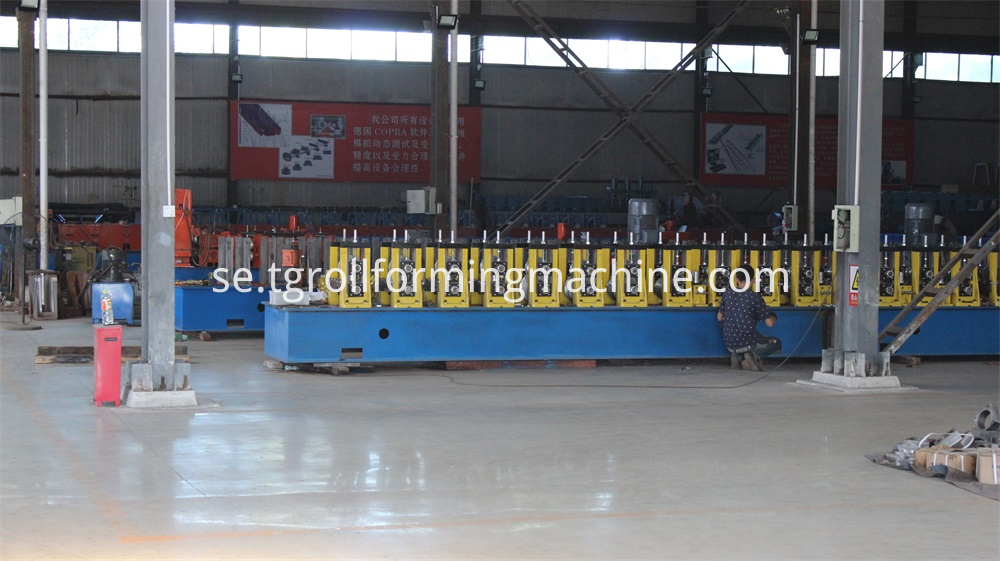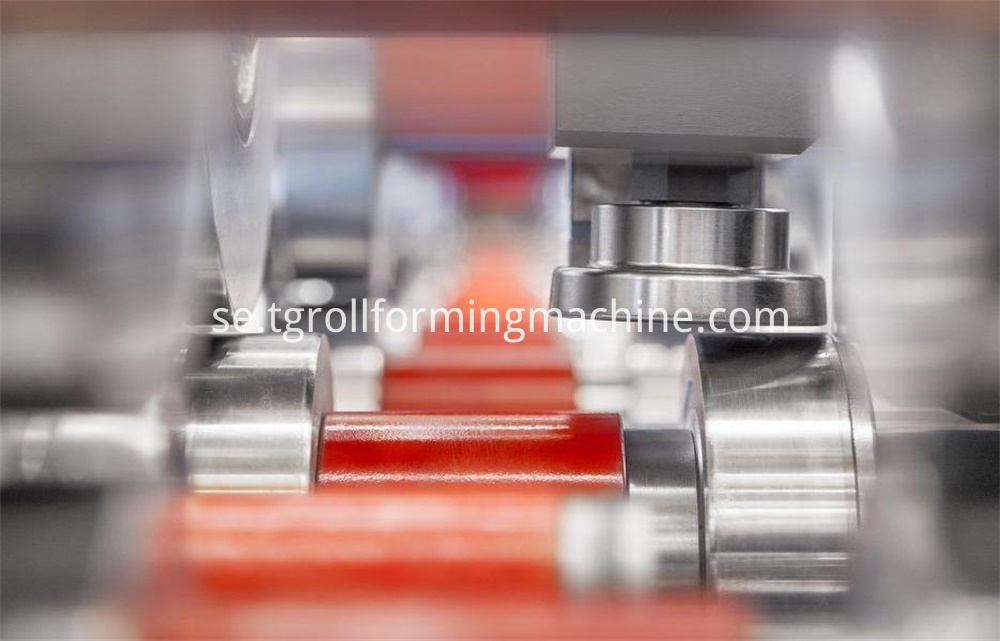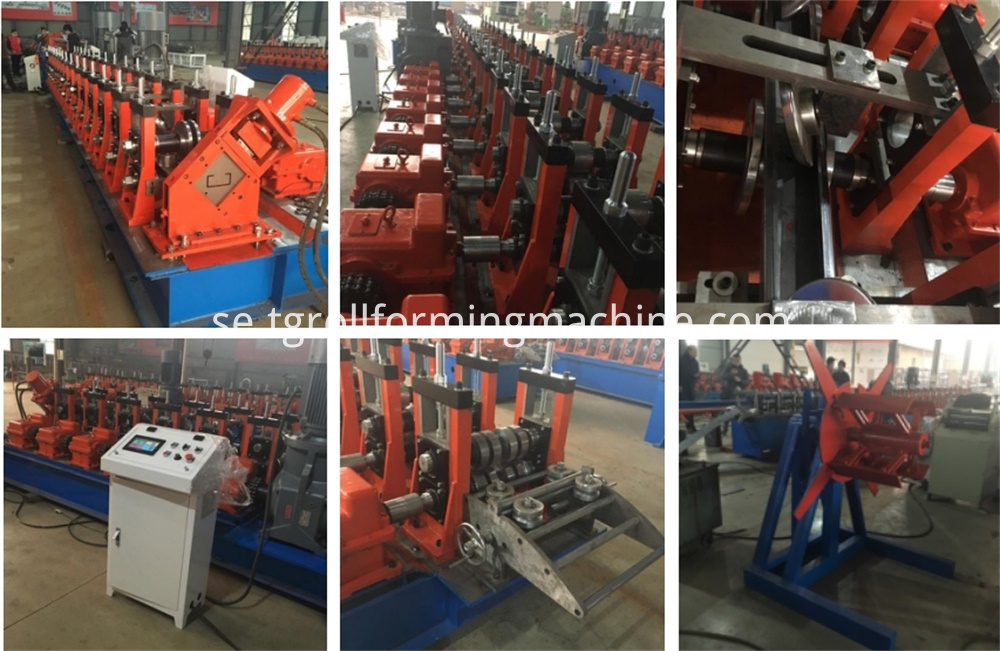 6. Scenapplikation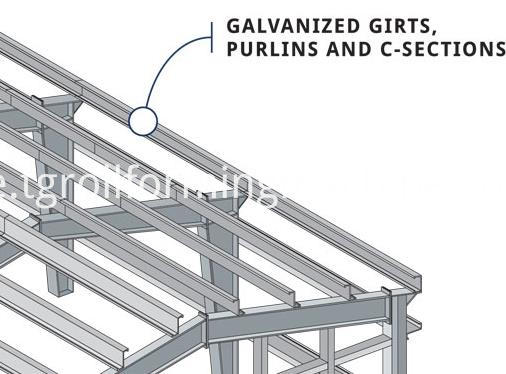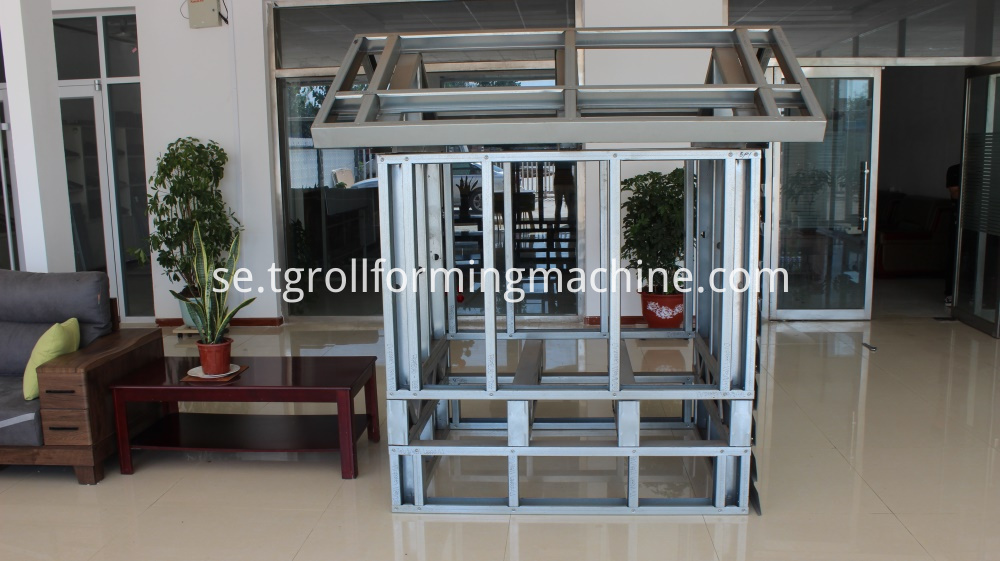 7. Kundbesök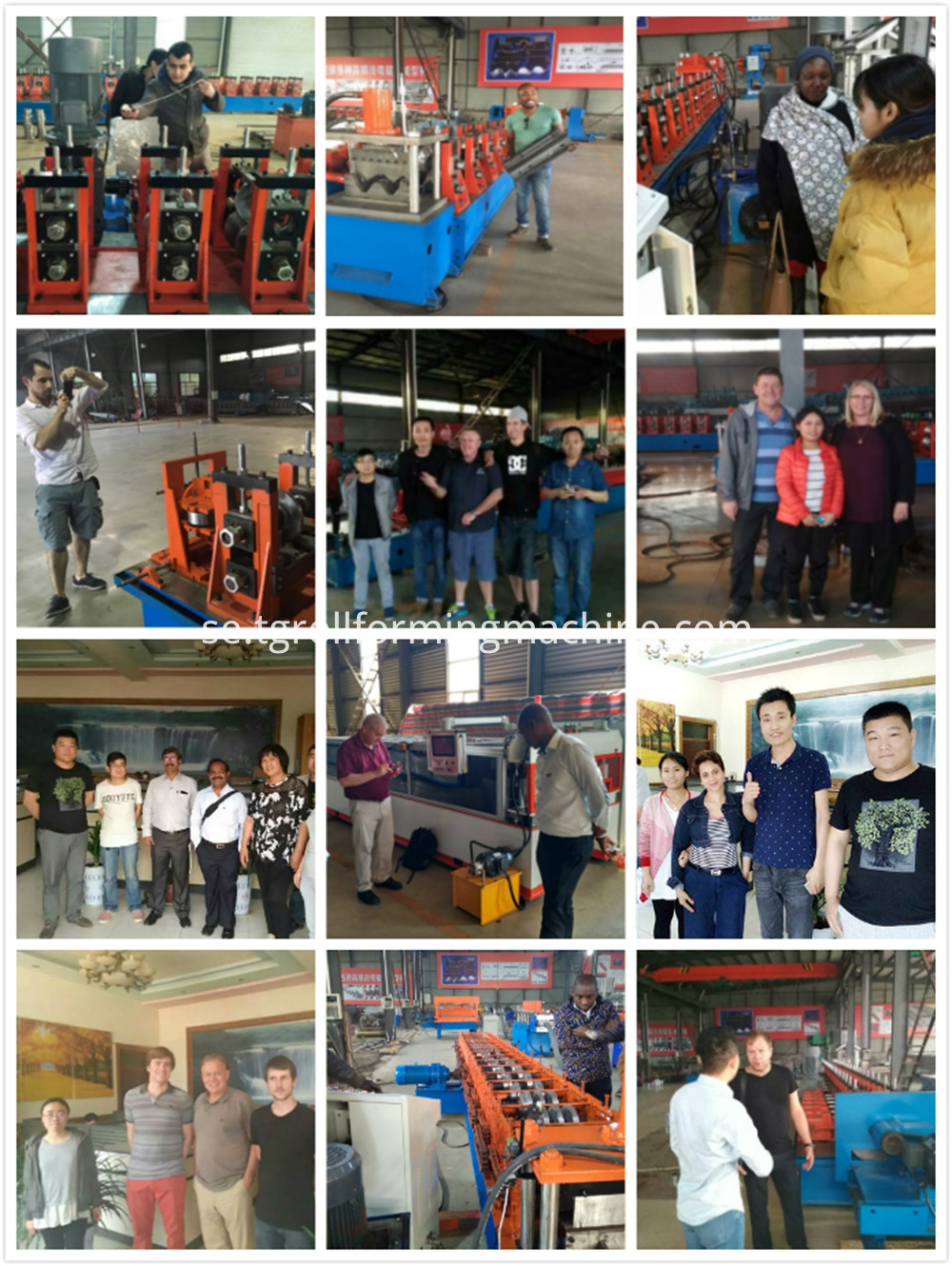 8. Maskin Loadi ng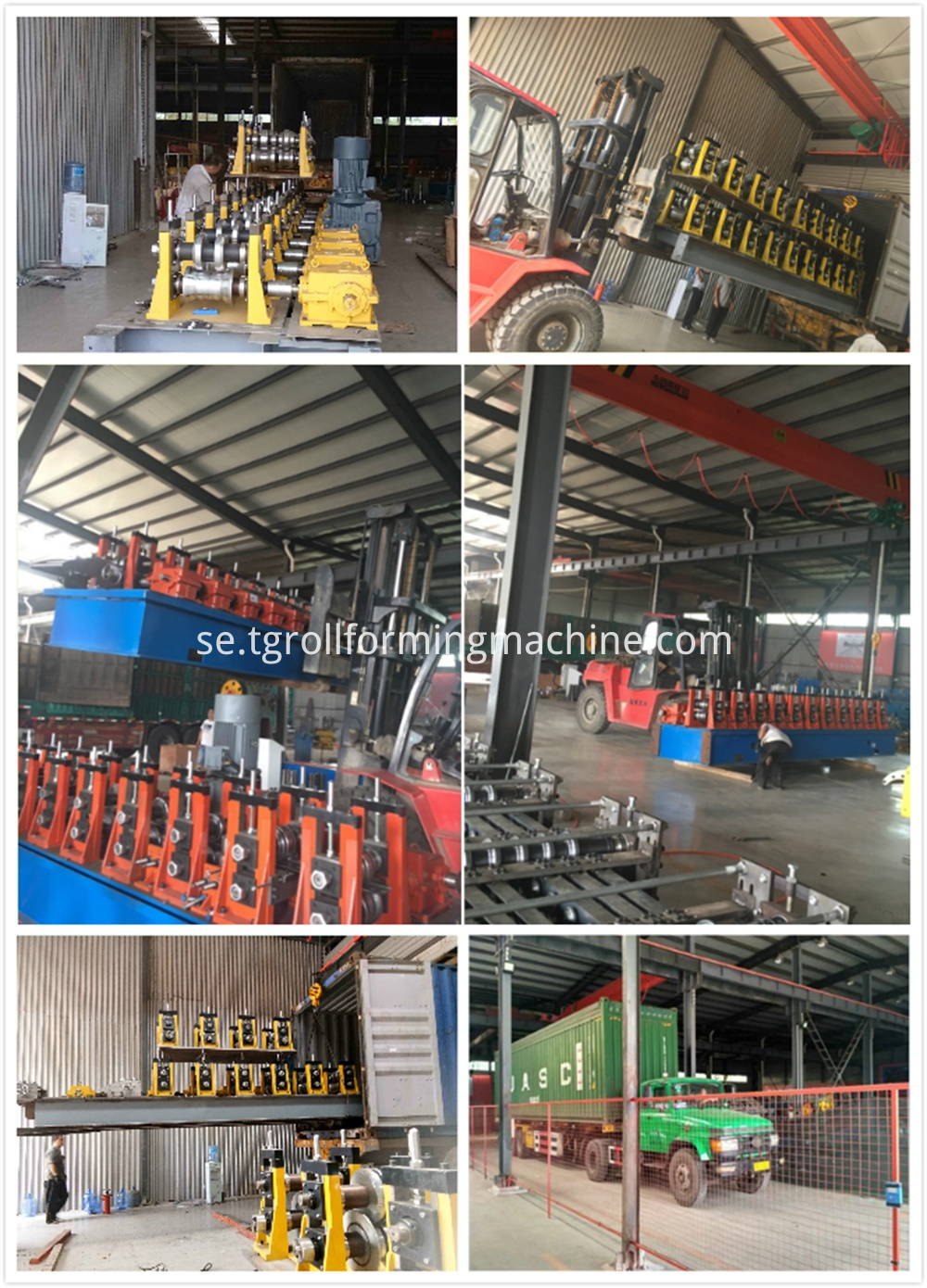 9. Betalningsvillkor och service efter försäljning
1) FOB Tianjin
2) Betalning: 30% T / T insättning, och betala saldot före leverans av stålrullformningsmaskin
3) Leveranstid: 60 arbetsdagar
4) Garantiperiod: 12 månaders begränsad garanti från och med leveransdatum. Fraktkostnad för delar som ska bytas ut under garantiperioden måste bäras av kunden
5) Reservdelar: lager, knappar, kedjor, magnetventil, skyddsrör etc.
6) Installation och träning
1. Om köpare besöker vår fabrik och kontrollerar CZ Purlin Roll Forming Machine , lär vi dig hur du installerar och oss C-Shaped Steel Forming Machine , och tränar också dina arbetare / tekniker ansikte mot ansikte
2. Utan att besöka, skickar vi dig bruksanvisning och CD för att lära dig att installera och använda CZ Purlin Roll Forming Machine
3. KOSTNAD FÖR INSTALLATION
Köparen ska betala installationsavgifterna (100 USD en man en dag). Till säljarens utnämnda konto av T / T innan säljarens tekniker går till köparens fabrik. Köparen betalar säljarens tekniker resekostnader utanför Kina, inklusive flygbiljettavgift, boende och mat, tillhandahålla transport från bostad till arbetsplats, nödvändig kommunikation och försäkring etc.
Produktkategorier : Purlin Roll Forming Machine > C Purlin Roll Forming Machine