Företaget följer det strategiska tänkandet av en hög utgångspunkt, introducerar bättre designteknik och förbättrar ytterligare det tekniska innehållet och produktkvaliteten. Alla typer av elektriska kabinettramar är tillverkad av slitstarkt och starkt stål och bearbetas av avancerad värmebehandlingsteknik. Operationsmetoden är enkel, bearbetningsintervallet är brett och formningsförmågan är bra. Företaget har professionell och teknisk personal som ansvarar för felsökning av utrustning och personalutbildning, så att kunderna köper med lätthet, med tillfredsställelse.

Den elektriska kabinettram Roll Forming Machine ram som tillhandahålls av vår fabrik är en specialtillverkad utrustning. Enligt kundernas olika behov integreras många processer, såsom automatisk matare, skärnings- och stämplingssystem och komplexa svets-, nitnings-, bocknings-, hanterings- och förpackningssystem. Alla dessa kommer att ge stort mervärde till förbättring av produktionskapaciteten. GGD Electric Cabinet Frame Machine av utrustning för kallböjning av produktionslinje: Materialet i det rullande materialet omfattar kallvalsad stålremsa, varmvalsad remsa, betongplatta (stålremsa), färgad stålplåt (stålremsa), galvaniserad stålremsa och rostfritt stålbälte mm. Produkterna produceras av serie Frame Making Machine ofta används som pelare elskåp och styrskåp i elektroteknik maskinindustrin, metallurgi maskinindustrin och andra branscher.
1. Profilritning och produkter för referens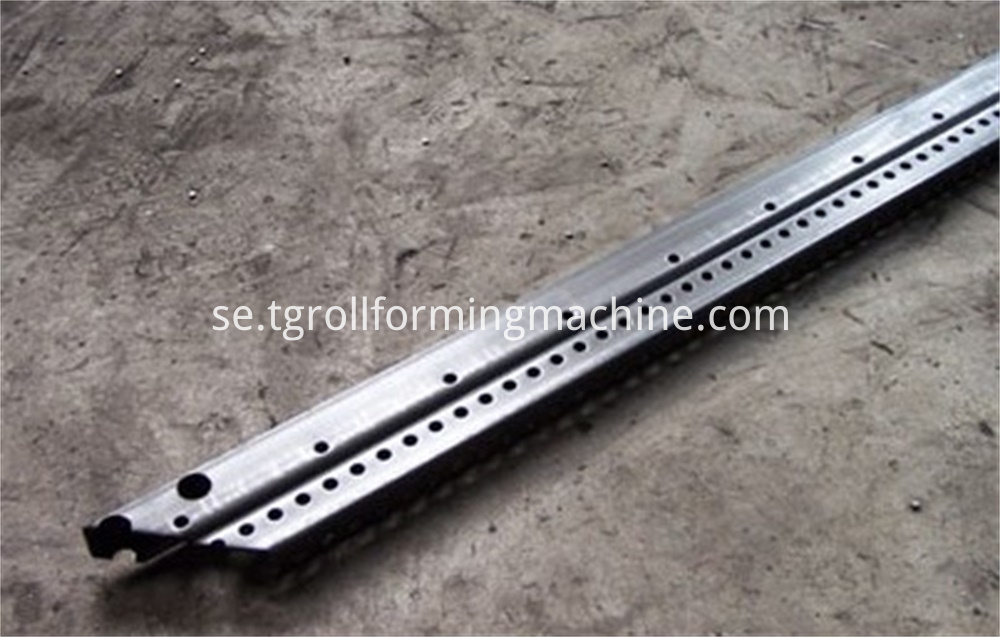 2. Arbetsflöde av elektrisk skåprammaskin
Decoiler ---- matning med guide --- Punching ---- Roll forming ---- Cutting ---- Produkter samla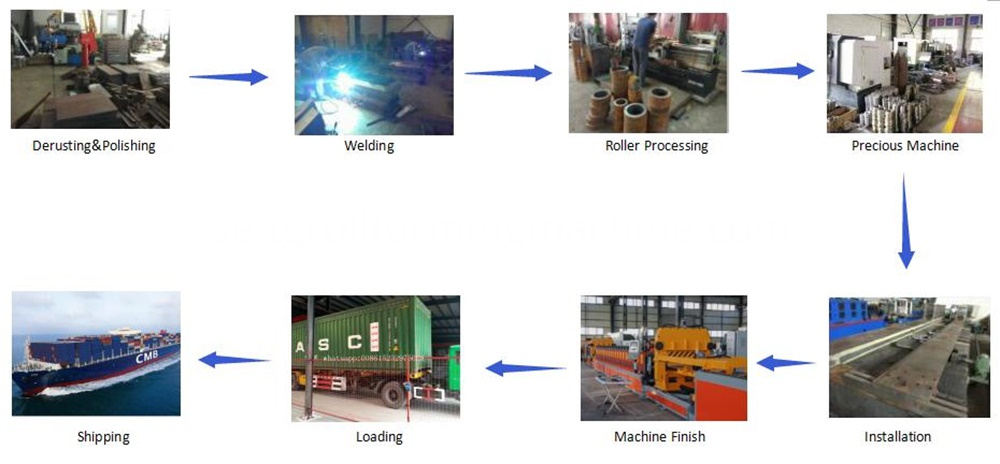 3. Huvud tekniska data
| | |
| --- | --- |
| Suitable to process | Color steel plate, galvanized sheet,aluminum coils and etc. |
| Roller station | 20 rows |
| Thickness of feeding material | 1-3 mm |
| Productivity | 8-15m/min |
| Rollers' material | 45# forging steel |
| Cutting tool material: | GCr12 with quenched treatment 60-62°C |
| Weight | About 20T |
| Size | 20*2.4*1.8m |
| Voltage | 380V 50Hz 3phases |
| Main forming machine body | 300 mm H steel |
| Total power | 60kw |
4. Cabinet Frame Roll Forming Machine Mer detaljer
(1) Manuell Ue-coiler
Un-power: manuell avspolare; Max. Kapacitet: 5T
Passar till spolens inre diameter: 508mm, lämplig spole Max. ut diameter: 1000mm
Manuell ström expanderar spolens inre yta.
(2) Flyga sågskärning
1) Ingen stoppskärning
2) Skärematerialet är Cr12 med släckt behandling
3) Adopterar svetsad ram för god styvhet
4) Skärramen har värmebehandlats för att undvika slutproduktdeformation. skärlängdstolerans ± 2 mm
5) Kraften för skärning tillhandahålls av hydraulisk station
6) Slutprodukten kan skäras enligt setlängd i PLC-styrenheten, och längden mäts automatiskt med encoder. När slutprodukten når den inställda längden, slutar maskinen att skära produkten automatiskt. Avsluta denna åtgärd, maskinen kommer att springa igen kontinuerligt.
(3) PLC Control System
1) Systemet använder Delta PLC för att styra alla arbetsåtgärder. Produktionskvantitet och varje stycklängd mätas automatiskt. Det är lämpligt att styra rullbildningsmaskinen
2) Delta-omvandlaren justerar hastighetstekniken, realiserar automatisk produktion
3) Textskärmen matas in och avbryts arbetsdata
4) Vänligt man-maskingränssystem kan sättas om till arbetsstycket, längden, kvantiteten etc.
5) Enkoderräkning, med funktion av räkning och mätlängd
6) Lämplig spänning: 380V / 50HZ / 3Phase (kan de utformas enligt köparens krav)
5. Maskinöversikt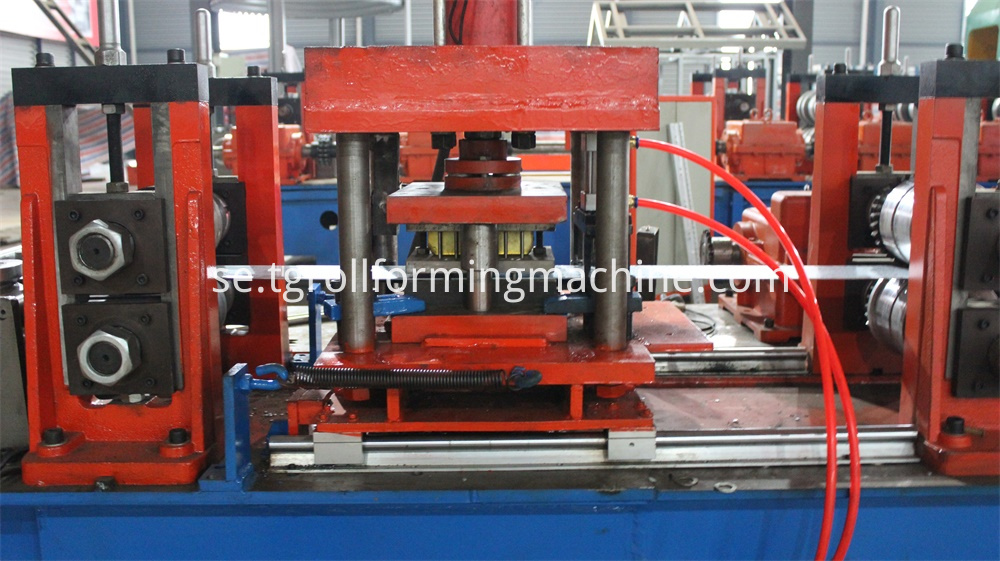 6. Scenapplikation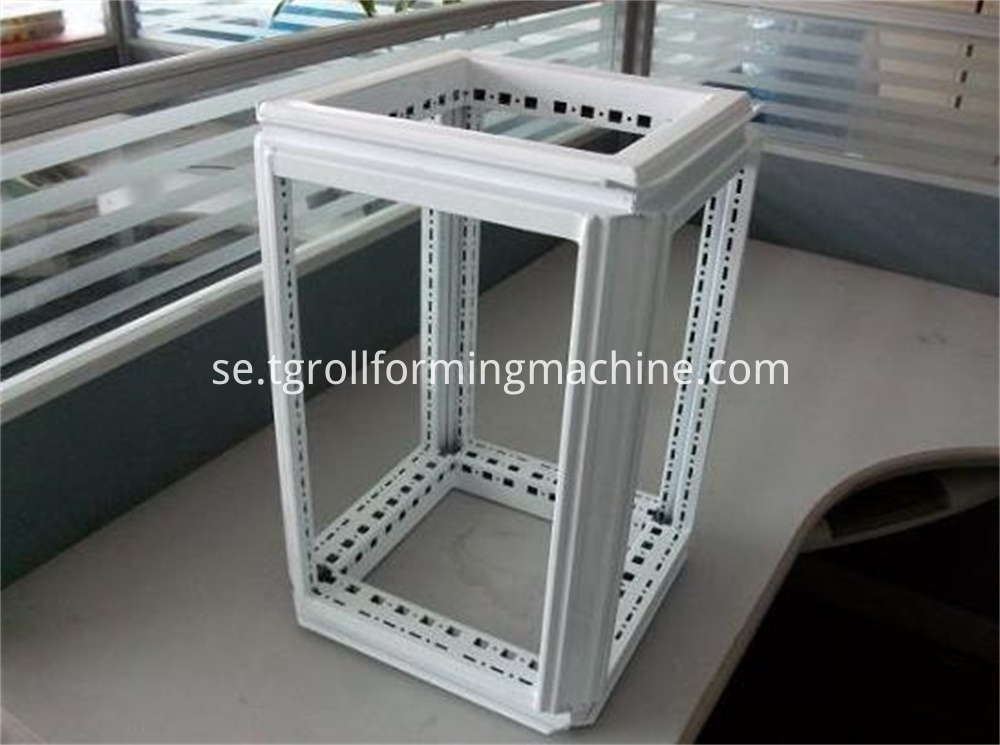 7. Kund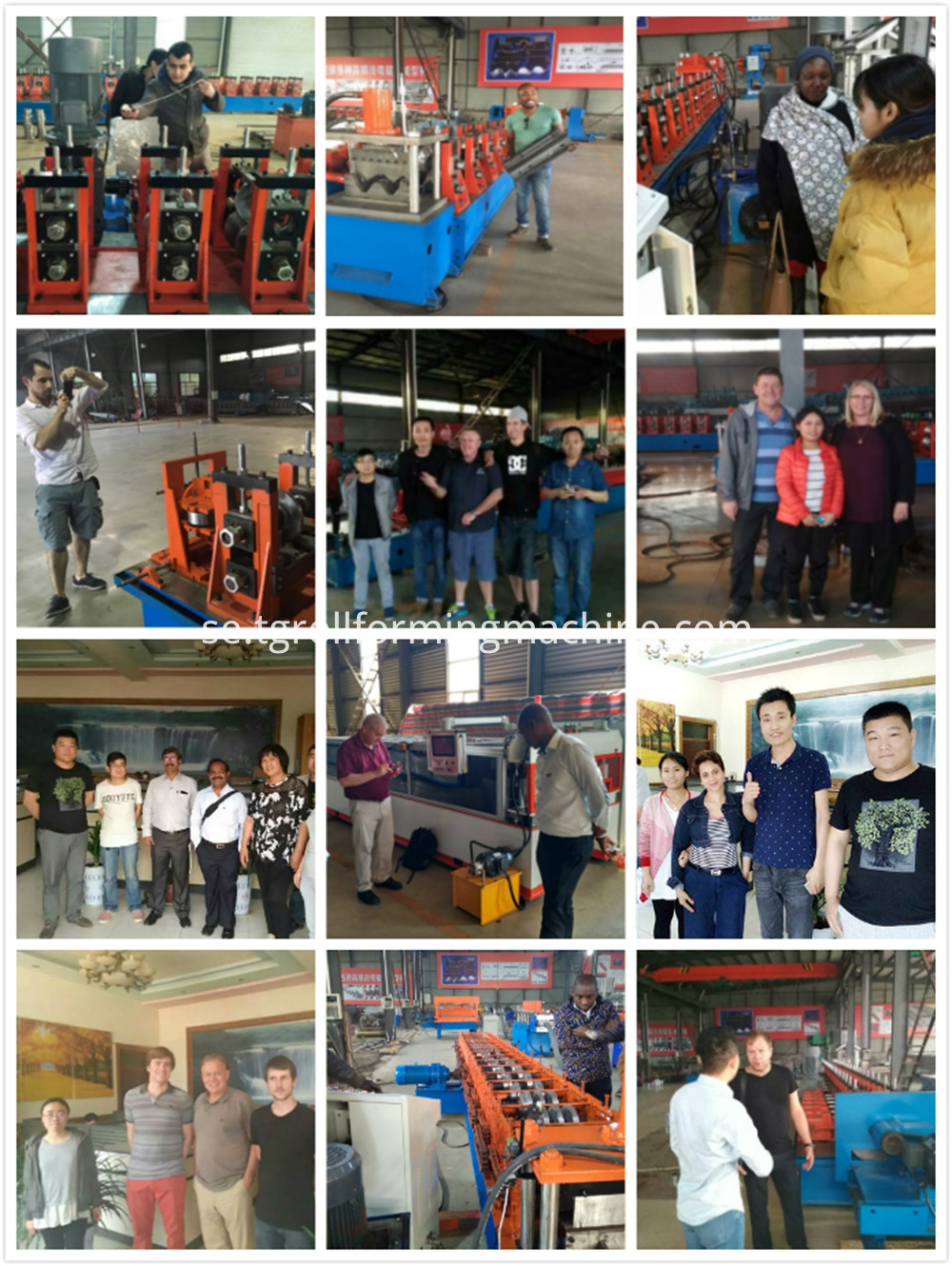 8. Laddar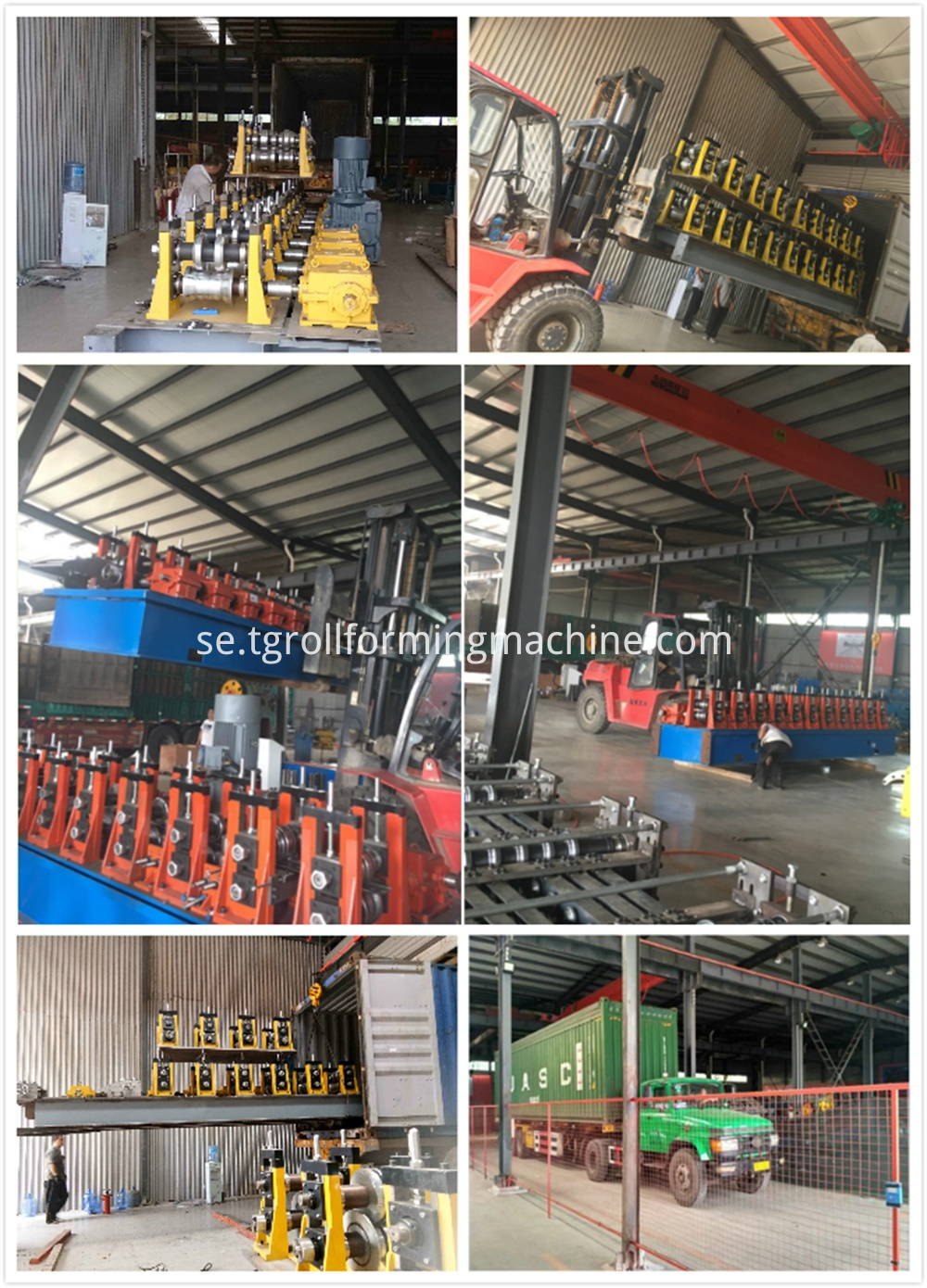 9. Våra tjänster
1. Garanti: Ett år, och vi kommer att tillhandahålla tekniskt stöd för hela livet i elkabinettrullformningsmaskinen
2. Leveranstid: Inom 30 dagar efter deposition kvitto din betalning
3. Garantiperiod: 1 års kostnadsfri service / betaltjänst hela maskinens livslängd
4. Installation och utbildning Om köpare besöker vår fabrik och kontrollerar kabinettrullformningsmaskinen
Vi kommer att lära dig hur du installerar och använder maskinen och tränar också dina arbetare / tekniker ansikte mot ansikte.
Utan att besöka, skickar vi dig användarmanual och video för att lära dig att installera och driva Elkabinettpappningsformningsmaskin
Om köparen behöver vår tekniker att gå till din lokala fabrik, vänligen ordna ombord och logi och andra nödvändiga saker.
Våra huvudsakliga produkter omfattar Stud Spår Roll Forming Machines , Stål Frame Forming Machines , Purlin Roll Forming Machines , svetsade rörtillverkning maskiner , Highway Guardrail Roll Forming Machines , Metal Expanded Mesh Production Lines och så vidare. Jag har ytterligare frågor om vår Cold Roll Forming Machine , var god kontakta mig.
Produktkategorier : Elskåpskåpsmaskin > 8MF Elskåpskåpsmaskin